Fatah FB page glorifies terrorist murderers: "Our heroic prisoners – our hearts are with you"
Image and text posted on the official Fatah Facebook page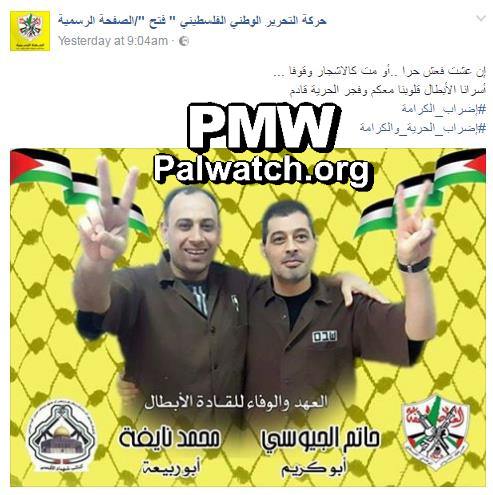 Posted text:
"If you are alive, live free or die upright like the trees
Our heroic prisoners – our hearts are with you, the dawn of freedom will surely come
#The_[hunger_]strike_of_dignity
#The_[hunger_]strike_of_freedom_and_dignity"
The image shows terrorist prisoners Muhammad Naifeh, who was involved in numerous terror attacks, and Hatem Al-Jayousi, who was involved in the murder of 6.
Text on image:
"The promise and loyalty to the heroic leaders
Hatem Al-Jayousi Abu Karim
Muhammad Naifeh Abu Rabia"
Muhammad Naifeh 'Abu Rabia' – A terrorist and member of the Tanzim (Fatah terror faction) serving 13 life sentences for his involvement in several terror attacks: the murder of 5 Israelis at Kibbutz Metzer on Nov. 11, 2002, the murder of 3 Israelis in Hermesh on Oct. 29, 2002 and the murder of 5 others in shooting attacks in 2001. Naifeh carried out some of the shooting attacks himself.

Hatem Al-Jayousi – a Palestinian terrorist who knowingly provided the car used in carrying out the Hadera Bat Mitzvah attack, in which a terrorist shot and killed 6 Israelis and wounded dozens of others at a Bat Mitzvah celebration on Jan. 16, 2002. Al-Jayousi is serving 6 life sentences and an additional 50 years.