As UK mourns victim of Palestinian terror, Palestinian embassy in UK glorifies Palestinian terrorist
Itamar Marcus and Nan Jacques Zilberdik
|
PA embassy glorifies Palestinian terror
while UK mourns young British woman
murdered by Palestinian terrorist

PA embassy in UK promotes film glorifying Palestinian terrorist Marwan Barghouti who planned murders of 5
Itamar Marcus and Nan Jacques Zilberdik

While the UK mourns the murder last week of a young British woman, Hannah Bladon, by a Palestinian terrorist in Jerusalem, the Palestinian Mission in the UK is promoting an event in a hall in London that honors a different Palestinian terrorist. g
Marwan Barghouti, former head of Fatah's Tanzim terror faction, was convicted and imprisoned in Israel for orchestrating 3 shooting attacks in which 5 people were murdered. The PA embassy in Britain is endorsing an event that honors this terrorist by showing a film about him next week, Sunday, April 23, 2017, at the Mayfair Hotel in London.

According to the invitation to the event, which is posted on the embassy's official website, the event is organized by the UK branch of Mahmoud Abbas' Fatah Movement and the General Union of Palestinian Communities in Europe. The embassy is directly involved as well, as registration for the event is done by emailing the PA mission's political counsellor Ms. Meisoon Shorafa ([email protected]).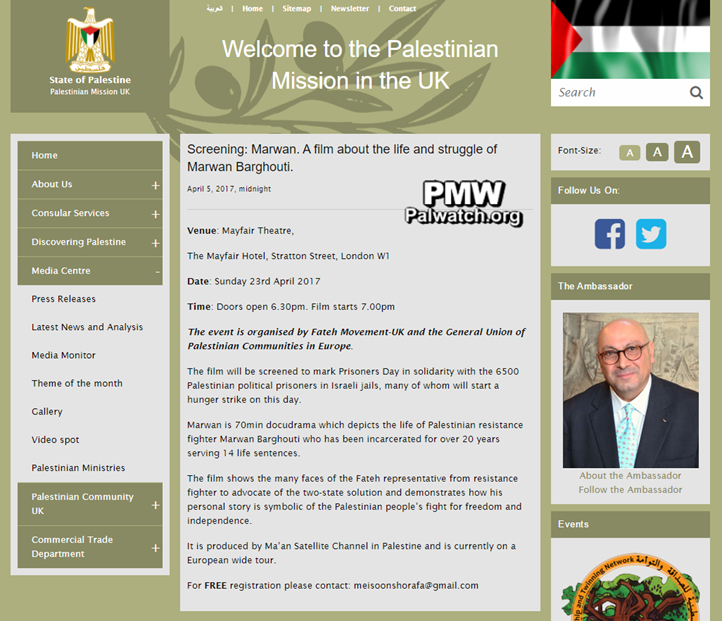 [Website of the Palestinian Mission to the UK, accessed April 19, 2017]
The film "Marwan," produced by the independent Palestinian news agency Ma'an, is being screened in London to mark Palestinian Prisoner's Day in "solidarity" with what the invitation on the embassy's official website refers to as "6,500 Palestinian political prisoners" - i.e., the Palestinian euphemism for imprisoned terrorists and murderers. In the same way, Marwan Barghouti, who is in prison for being responsible for 5 murders, is referred to as "resistance fighter" who turned "advocate of the two-state solution."Palestinian Media Watch has reported on the PA's attempt to make the international community "recognize the legitimacy" of Barghouti's murders by campaigning for awarding him the Nobel Peace Prize. (Link includes description of the attacks orchestrated by Barghouti and the 5 victims.)