Daughter of terrorist responsible for the murder of 67 reads letter to her father at school assembly
Image and text posted on the official Fatah Facebook page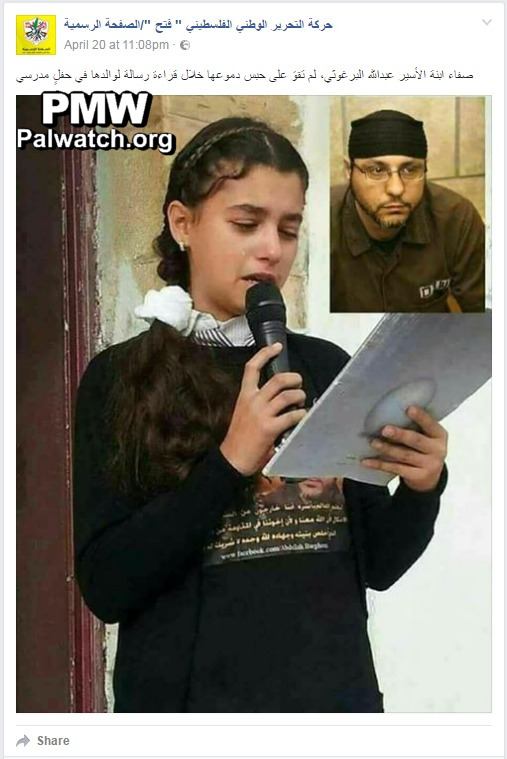 Posted text:
"Safa, the daughter of prisoner Abdallah Barghouti (i.e., terrorist who prepared explosives for attacks in which 67 were murdered), was unable to stop her tears while reading a letter to her father at a school ceremony."
The image shows Safa Barghouti reading her letter during the ceremony, and in the upper right corner a picture of terrorist Abdallah Barghouti is seen.
Abdallah Barghouti
- Palestinian terrorist who prepared explosives for terror attacks in which 67 people were murdered: Sbarro restaurant in Jerusalem, Aug. 9, 2001 – 15 murdered; triple attack at Ben Yehuda pedestrian mall, Jerusalem, Dec. 1, 2001 – 11 murdered; Moment Café, Jerusalem, March 9, 2002 - 11 murdered; Sheffield Club, Rishon LeZion, May 7, 2002 – 15 murdered; Hebrew University, Jerusalem, July 31, 2002 - 9 murdered; Bus 4 in Tel Aviv, Sept. 19, 2002 - 6 murdered. Barghouti is serving 67 life sentences.