Update: Second hotel venue cancels Barghouti film screening
Itamar Marcus and Yocheved T. Kolchin
|
Update: Second hotel venue cancels
Barghouti film screening
After PMW informed the Copthorne Tara Hotel in London that its broadcast of a film honoring Palestinian terrorist Marwan Barghouti may be in violation of British law, the hotel has cancelled today's scheduled screening
By Itamar Marcus, Maurice Hirsch, and Yocheved T. Kolchin
After the release of PMW's bulletin earliertoday exposing that the Palestinian Mission in the UK had changed the venue of its Marwan Barghouti film screening to the Copthorne Tara Hotel in London, PMW contacted the hotel directly to bring its manager's attention to the potential consequences of hosting such an event.
A letter from PMW's legal director Maurice Hirsch noted that Marwan Barghouti is a convicted terrorist responsible for the murder of 5 people. The letter further asserted that hosting an event glorifying such a terrorist could result in "potentially criminal repercussions," in accordance with the Terrorism Act of 2006, which prohibits the glorification of acts of terrorism as incitement.
PMW's followers also expressed their outrage on social media, encouraging people to call the hotel and protest the event: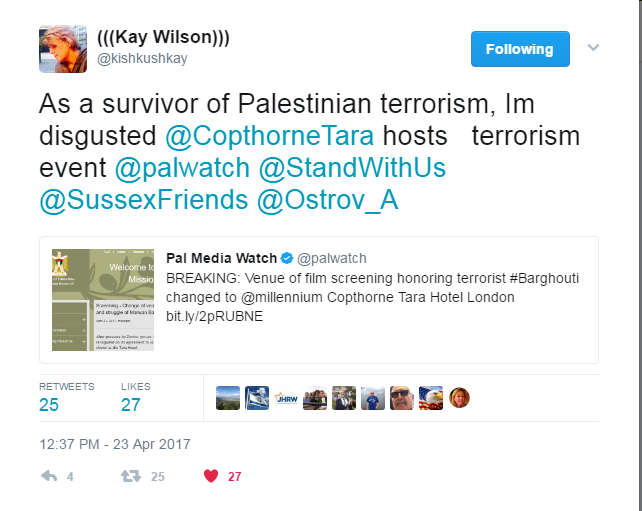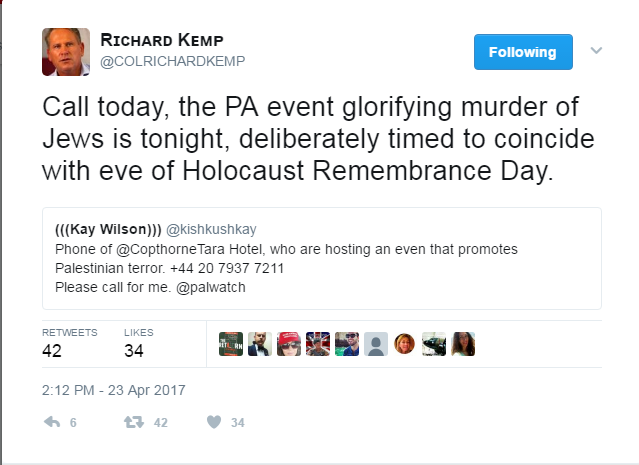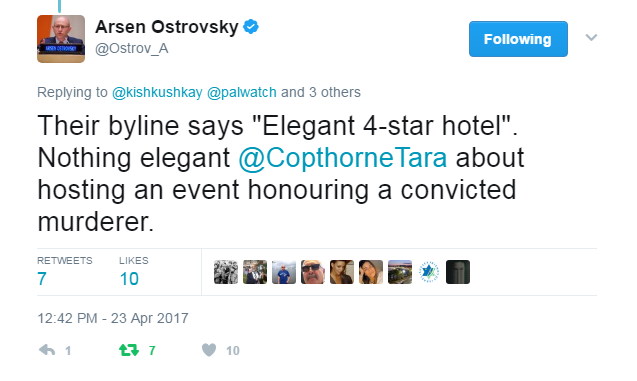 When PMW called the Copthorne Tara again later this afternoon, a representative for the hotel confirmed that the event had been canceled. PMW congratulates all those who took action to contact the hotel and express their condemnation of this event.