PS District Governor and Arab-Israeli MP visit family of longest-serving imprisoned terrorist who murdered 1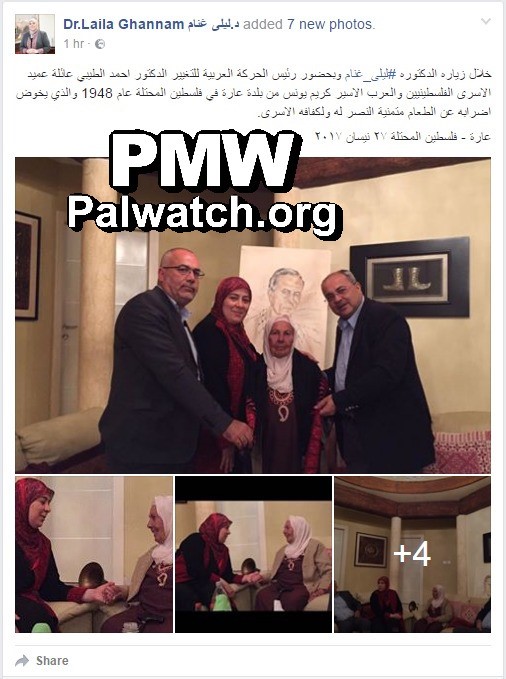 Images and text posted on the Facebook page of District Governor of Ramallah and El-Bireh Laila Ghannam
Posted text:
"During [Governor of Ramallah and El-Bireh] Dr. Laila Ghannam's visit, in the presence of Raam party Chairman [Israeli Arab Parliament member] Dr. Ahmad Tibi, with the family of the oldest of the Palestinian and Arab prisoners, prisoner Karim Younes (i.e., terrorist, murdered 1), from the village of 'Ara in Palestine that was occupied in 1948 (i.e., Israel). Ghannam wished Younes and all of the prisoners success in the hunger strike that they are waging.
'Ara – occupied Palestine (i.e., Israel), April 27, 2017"
Karim Younes - an Israeli Arab serving a 40-year sentence for kidnapping and murdering Israeli soldier Avraham Bromberg in 1980 together with his cousin Maher Younes. Younes was originally sentenced to life in prison, but Israeli President Shimon Peres reduced his sentence in 2012.