Abbas meets families of "Martyrs" and imprisoned terrorists
Headline: "The [PA] president: The prisoners' cause is a priority among the issues in which the leadership is interested"
"[PA] President Mahmoud Abbas welcomed a delegation of families of Martyrs (
Shahids
) and hunger striking prisoners from all districts of the homeland yesterday [April 28, 2017] at his presidential office in Ramallah. The president emphasized that the leadership is in contact with all of the international parties in order to pressure the government of Israel to accede to the prisoners' just humanitarian demands. The president noted that the prisoners' cause is a priority among the issues in which the leadership is interested. He called on everyone to stand alongside the prisoners and their just cause, and to ease their suffering and their families' suffering."
Click to view bulletin
The article includes several pictures.
The first picture shows PA Chairman Mahmoud Abbas holding a picture of prisoner Khaled Khdeish, a terrorist who was involved in the murder of 2. Abbas is accompanied by two boys, apparently Khdeish's sons.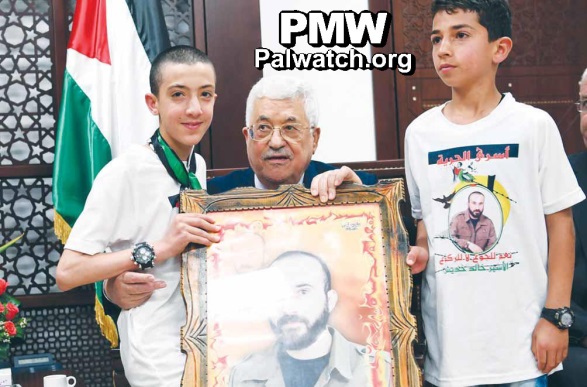 Text under picture: "The [PA] president embraces two children of prisoners during a meeting with their families in Ramallah ([official PA news agency] WAFA)"

The second picture shows Abbas with Um Nasser Abu Hmeid, the mother of four terrorist prisoners serving life sentences.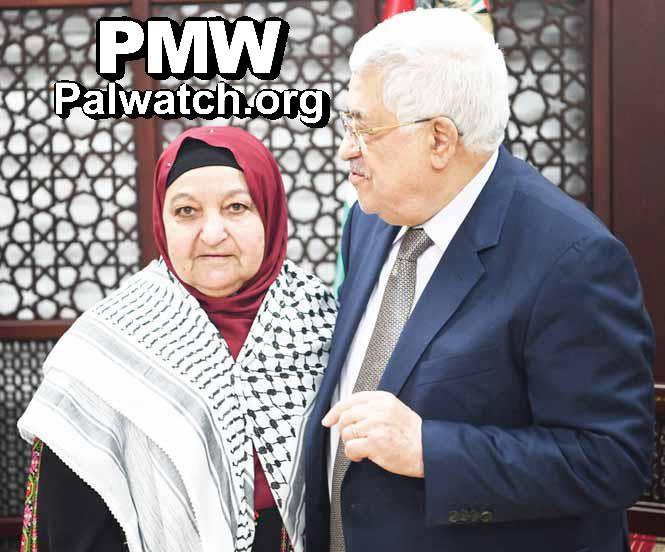 The third picture shows Abbas embracing Ahmed Dawabsheh, whose parents and brother were murdered in the Duma arson attack of July 31, 2015.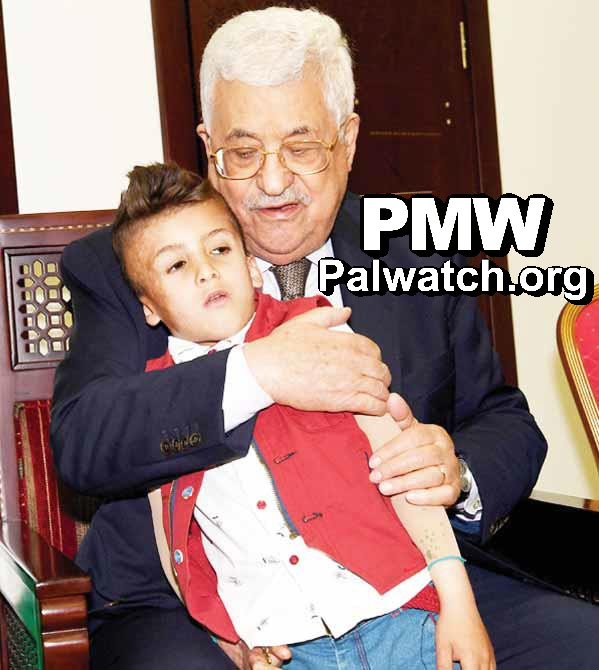 The fourth picture shows Abbas with the family members of unidentified prisoners.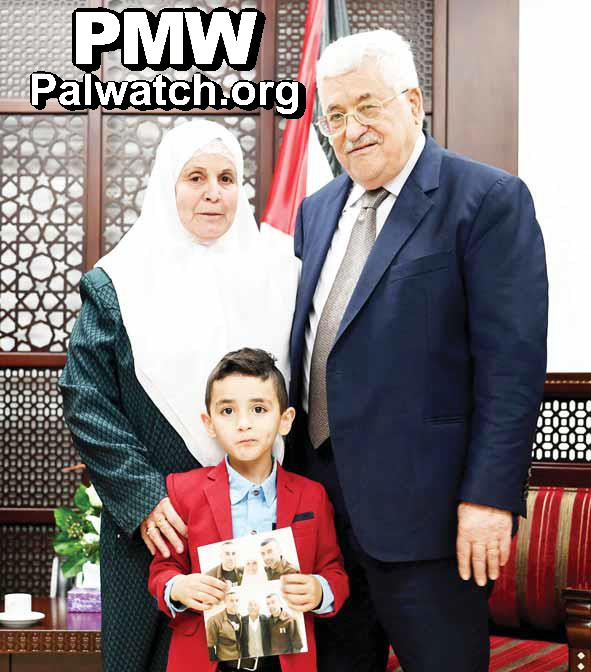 Khaled Khdeish – a Palestinian terrorist who was involved in the murder of 2 Israeli soldiers and the wounding of 3 others. Khdeish is serving 2 life sentences and an additional 20 years. PMW was unable to find additional information regarding his crimes.

Um Nasser Abu Hmeid (Um Yusuf Abu Hmeid/Latifa Abu Hmeid) – Palestinian woman who is famous and admired in the Palestinian Authority for being the mother of 4 terrorist prisoners serving multiple life sentences and another terrorist son whom the PA refers to as a "Martyr." Abu Hmeid is also called Khansa of Palestine, a name that refers to the woman Al-Khansa in the earliest period of Islam who sent her four sons to battle and rejoiced when they all died as Martyrs. Abu Hmeid was honored by the PA in 2010 and in 2015, and was chosen in 2011 to launch the PA's statehood campaign with the UN.
Her terrorist sons are: Muhammad Abu Hmeid, who is serving 2 life sentences and 30 years for involvement in terror attacks; Nasser Abu Hmeid, who is serving 7 life sentences and 50 years for murdering 7 Israeli civilians and 12 attempted murders; Nasr Abu Hmeid, who is serving 5 life sentences for involvement in two terror attacks in which 4 were murdered and arms dealing; Sharif Abu Hmeid, who is serving 4 life sentences for involvement in terror attacks in which 4 were murdered; Abd Al-Mun'im Muhammad Yusuf Naji Abu Hmeid, who murdered 1 on Feb. 13, 1994, and was killed by Israeli military undercover agents on May 31, 1994.


Duma arson attack - On July 31, 2015, two Palestinian houses in the West Bank village of Duma were ‎set afire by Molotov cocktails thrown through their windows. 18-month-old Ali Dawabsheh was murdered in ‎this attack, as was his father, Saad Dawabsheh and mother, Reham Dawabsheh, who both died of their injuries later. The ‎only survivor of the attack was the couple's other son, 4-year-old Ahmad, who suffered burns on 60% of ‎his body and was treated in Israel. Israeli leaders and citizens from all sectors of society condemned ‎this attack, and Israeli Prime Minister Benjamin Netanyahu told PA Chairman Mahmoud Abbas that all ‎Israelis were disgusted by the crime, adding, "We will not countenance terrorism of any kind." He ordered ‎the security forces "to use all means at their disposal to apprehend the murderers and bring them to ‎justice forthwith." Israeli Police has treated the attack as a nationalistic crime carried out by Jewish extremists in revenge for Palestinian terror attacks. In ‎early December 2015, Israeli police arrested several Jewish extremists who were believed to have been ‎involved in the attack, and in January 2016, Israel indicted 21-year-old Amiram Ben Uliel, a member of the ‎radical Jewish group "Hilltop Youth," with three counts of murder, attempted murder, arson and ‎conspiracy to commit a nationalistically-motivated crime. Ben Uliel confessed to police that he carried out the attack in revenge for the murder of Malachi Rosenfeld, an Israeli who was shot and murdered in a terror attack in the West Bank. Ben Uliel's defense has claimed that his confession was made under torture and suspicions have been raised that the arson and three other subsequent arson attacks against other Dawabshe family members are part of a family feud. Ben Uliel's trial is still pending. A minor whose name remains under a police ‎gag order was also charged.


» View analysis citing this item