Fatah honors 3 terrorist prisoners, one a murderer, two involved in murder
Text and image posted on the official Fatah Facebook page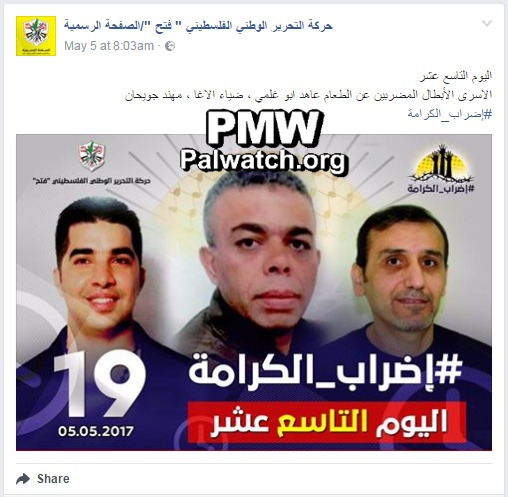 Posted text:
"The 19th day
The hunger striking heroic prisoners Ahed Abu Gholmeh (i.e., terrorist, planned murder of Israeli minister), Diya Al-Agha (i.e., terrorist, murdered 1), and Muhannad Jweihan (i.e., terrorist, involved in murder of 1)
#The_[hunger_]strike_of_dignity"
Text on image:
"#The_[hunger_]strike_of_dignity
The 19th day"
Ahed Abu Gholmeh – serving a life sentence for planning the murder of Israeli Minister of Tourism Rehavam Zeevi "Ghandi" in 2001.

Diya Zakariya Shaker Al-Agha "Al-Faluji" - Palestinian terrorist who beat Israeli citizen Amatzia Ben Haim to death with a shovel in Ganei Tal in the Gaza Strip on Oct. 11, 1992. Al-Agha is serving a life sentence.

Muhannad Jweihan – Palestinian terrorist, member of a group of terrorists that murdered 25-year-old law student Moran Amit at the Armon Hanatziv Promenade in Jerusalem on Feb. 8, 2002. The group carried out additional terror attacks in Jerusalem. Jweihan is serving a 25 year prison sentence.