Norway, UN and PA funded youth center named after Dalal Mughrabi
PMW note: Shortly after PMW reported on this center, Norwegian Foreign Minister Børge Brende
condemned the center
and demanded that the Norwegian money be returned: "The glorification of terrorist attacks is completely unacceptable, and I deplore this decision in the strongest possible terms... We have asked for the logo of the Norwegian representation office to be removed from the building immediately, and for the funding that has been allocated to the centre to be repaid." The UN,
including
UN Secretary General Antonio Guterres, also condemned the decision. Shortly afterwards,
Denmark
also demanded its funding be returned. Despite the pressure, the center responded that it would
not change its name
.

Headline: "
The Committee for Women's Affairs inaugurated a women's center in Burqa"
"The Women's Affairs [Technical] Committee, today, Monday [May 15, 2017], inaugurated the Martyr Dalal Mughrabi Center (i.e., terrorist who led murder of 37, 12 of them children) in the village of Burqa in the Nablus district.
The renovation of this center and turning it into a place for the village's activities were carried out as part of an initiative of the Women's [Technical] Affairs Committee in partnership with female members of the village council. This building will be used to hold social activities and activities for women and youth… Women's Technical Affairs Committee (WTAC) Secretary-General Sarida Abd Hussein, [Burqa] Village Council member Reem Hajje, and [Burqa] Village Council member [Muntasir] Saleh gave speeches in which they welcomed the male and female participants from among the village residents, and emphasized that a clear program needs to be determined for the cultural activities at the center...
Reem Hajje, a member of the village council, noted that the center will focus especially on the history of the struggle of Martyr Dalal Mughrabi and on presenting it to the youth groups, and that it constitutes the beginning of the launch of enrichment activities regarding the history of the Palestinian struggle.
The inauguration of the center on the 69th anniversary of the Nakba (i.e., "the catastrophe," Palestinian term for the establishment of the State of Israel) symbolizes the persistence in continuing on the path of struggle and honoring the Palestinian female and male fighters."
Click to view bulletin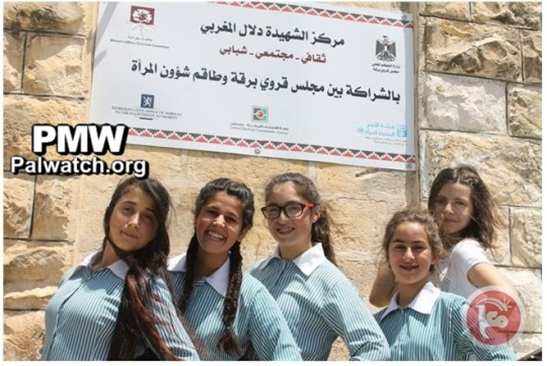 The picture shows girls posing at the Dalal Mughrabi Center below a sign with the logo of the PA Ministry of Local Government (upper right), the logo of the WATC (upper left), the logo of UN Women – a UN organization for women – (lower right), the logo of the Norwegian Representative Office to the PA (lower left) and the logo of the Central Elections Commission - Palestine.

Text on sign:

"Martyr Dalal Mughrabi Center

A cultural and social center and youth center

In partnership with the Burqa village council and the Committee for Women's Affairs"

Dalal Mughrabi led the most lethal terror attack in Israel's history, known as the Coastal Road massacre, in 1978, when she and other Fatah terrorists hijacked a bus on Israel's Coastal Highway, murdering 37 civilians, 12 of them children, and wounding over 70.

Women's Affairs Technical Committee (WATC) - a Palestinian NGO committed to advocate Palestinian women's rights. WATC states on its website that many of its members are also members of the PLO but it does not seem as if the WATC itself is a member of the PLO. The website says WATC "embrace[s] a coalition of seven women's frameworks, represented in the Palestine Liberation Organization (PLO) and a number of women's centers and activists."



» View analysis citing this item