PA Islamic-Christian Council slams Israeli minister's dress, says it's a further attempt to 'Judaize' Jerusalem
Headline: "The Islamic-Christian Council warns: Judaization drawings on an Israeli minister's dress"
"The [PA] Islamic-Christian Council for Jerusalem and the Holy Places today, Thursday [May 18, 2017], said that the fact that Israeli Minister of Culture and Sport Miri Regev wore a dress on which was printed pictures of Jerusalem, and particularly of the blessed Al-Aqsa Mosque and the Dome of the Rock, during her attendance of the opening ceremony of the 70th international film festival at Cannes constitutes a continuation of the Israeli occupation's policy that is based on Judaizing Jerusalem and its holy sites, imposing its rule on them, and misleading the world through all ways and means [to think] that they have a right to them.
The council emphasized in its statement that Israel is still continuing to be an instrument for disseminating lies and false claims regarding its right to Jerusalem and the holy sites. It noted that the fact that Regev wore a dress on which were printed pictures of the holy sites is a step meant to emphasize that 'Jerusalem is the capital of Israel.'"
The article refers to a dress worn by Israeli Minister of Culture and Sport Miri Regev at the Cannes Film Festival on May 17, 2017. The dress featured the skyline of Jerusalem rising from its hem, showing the Tower of David and the Temple Mount with the Dome of the Rock on it, in honor of the upcoming 50th anniversary of the unification of Jerusalem in the 1967 Six Day War on May 24, 2017.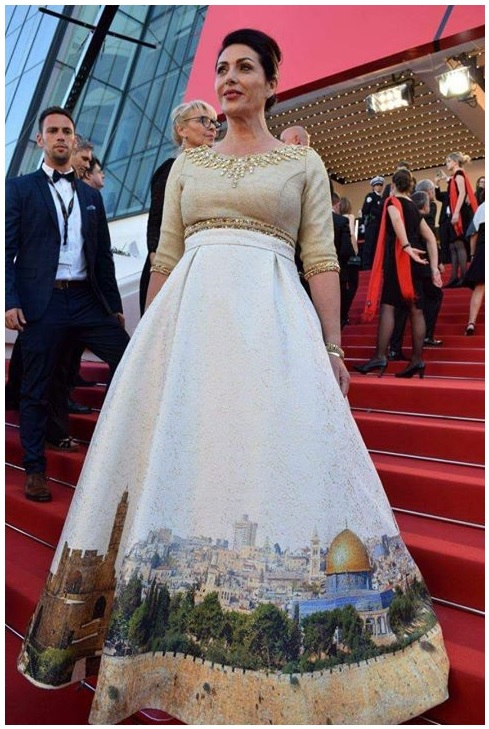 Photo: Eli Sabati