Abbas' advisor: Israeli minister's dress with Temple Mount was "racist and a denial of history," Jerusalem is "Arab and Islamic," Temple Mount "belongs only to Muslims"
Headline: "Al-Habbash condemned the Israeli minister of culture's harm to the sites holy to Islam"
"Supreme Shari'ah Judge of Palestine and [PA] President [Mahmoud Abbas'] advisor on Religious and Islamic Affairs Mahmoud Al-Habbash condemned the open provocation of extremist Israeli Minister of Culture [and Sport] Miri Regev of the sensibilities of the Muslims and Palestinians by wearing a dress on which was a picture of the holy Noble Sanctuary (i.e., the Temple Mount), including the Dome of the Rock and the blessed Al-Aqsa Mosque…
He described this behavior as racist, a denial of history and culture, and a failed attempt to steal the culture of our people that has been rooted in this land for thousands of years. He also said that if the head of the cultural pyramid in Israel commits theft in broad daylight before the eyes of the whole world, this is proof that all of the occupation state's institutions are uniting in order to falsify the facts and challenge the decisions of the international community and the world, which have verified that the holy city [of Jerusalem] is Arab and Islamic and that the holy Jerusalem Sanctuary, with all of its sections, belongs only to the Muslims and nobody but them."
The article refers to a dress worn by Israeli Minister of Culture and Sport Miri Regev at the Cannes Film Festival on May 17, 2017. The dress featured the skyline of Jerusalem rising from its hem, showing the Tower of David and the Temple Mount with the Dome of the Rock on it, in honor of the upcoming 50th anniversary of the unification of Jerusalem in the 1967 Six Day War on May 24, 2017.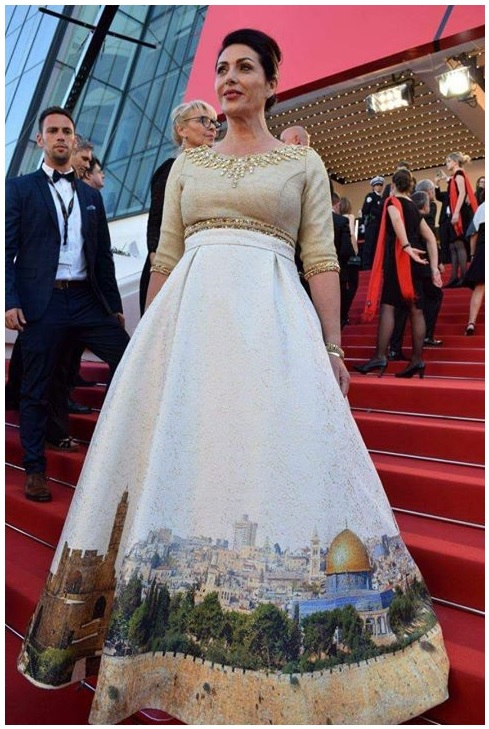 Photo: Eli Sabati