Jerusalem Report produces feature article on PMW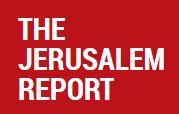 What did you learn in school today?
Elli Wohlgelernter, May 18, 2017
The NGO Palestinian Media Watch seems to be finally convincing world leaders that the PA is inculcating its children with a hatred of Jews.
On Wednesday, May 3, Palestinian Authority Chairman Mahmoud Abbas stood at the White House next to Donald Trump and said out loud about the Palestinian people, in Arabic: "Mr. President, I affirm to you we are raising our youth, our children and our grandchildren on a culture of peace." Reaction was swift and uniform, an outcry of laughter across the political spectrum. [...]
Itamar Marcus, founder and director of PMW
, was not surprised by the reactions to Abbas's words. His research institute, an NGO, has been translating and broadcasting what the PA has been doing for 20 years now, and is intimately familiar with all the hate education that permeates Palestinian society...
Read the rest of the article here (behind a paywall): http://www.jpost.com/Jerusalem-Report/What-did-you-learn-in-school-today-492149