Fatah posts praise for bomb maker, daughter of imprisoned Abdallah Barghouti: You have "given this people dignity."
Text and pictures posted on the official Fatah Facebook page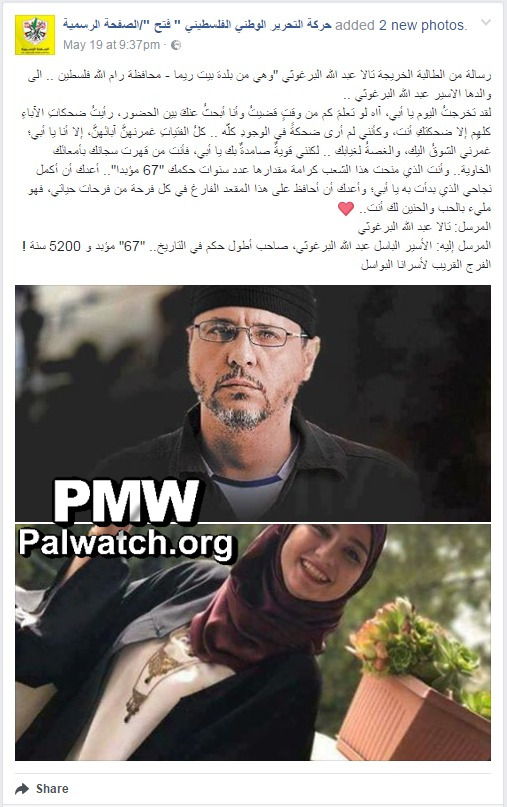 Posted text:
"A letter from the student who completed her studies, Tala Abdallah Barghouti from the village of Beit Rima in the Ramallah district of Palestine, to her father prisoner Abdallah Barghouti (i.e., terrorist, involved in murder of 67):
'Today I completed my studies, my father; if you only knew how much time I spent looking for you among those present. I saw the smiles of all the fathers, except for your smile, and I felt as if I did not see a single smile. All of the girls were flooded [with love] from their fathers, except for me, my father. Only the longings for you and the sorrow over your absence flooded me. However, I am strong and holding on thanks to you, my father, as you have defeated your jailors through your empty intestines (i.e., a hunger strike that began on April 17, 2017) and given this people dignity that is expressed by the number of years of your sentence – 67 life sentences. I promise you that I will continue to succeed, my father, and I will keep an empty place at every happy event in my life, which will be full of love and longings for you.'
The sender: Tala Abdallah Barghouti
The recipient: courageous prisoner Abdallah Barghouti, who has the longest sentence in history – 67 life sentences – 5,200 years!
A speedy release for our courageous prisoners"
Abdallah Barghouti - Palestinian terrorist who prepared explosives for terror attacks in which 67 people were murdered: Sbarro restaurant in Jerusalem, Aug. 9, 2001 – 15 murdered; triple attack at Ben Yehuda pedestrian mall, Jerusalem, Dec. 1, 2001 – 11 murdered; Moment Café, Jerusalem, March 9, 2002 - 11 murdered; Sheffield Club, Rishon LeZion, May 7, 2002 – 15 murdered; Hebrew University, Jerusalem, July 31, 2002 - 9 murdered; Bus 4 in Tel Aviv, Sept. 19, 2002 - 6 murdered. Barghouti is serving 67 life sentences.