OpEd: US Funding of PA violates US law
Itamar Marcus and Barbara Crook
|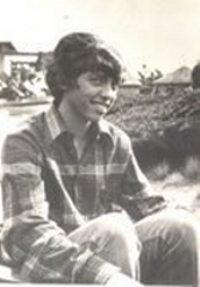 Imri Tel-Oren, age 15, murdered
by terrorist honored by Abbas.

The Palestinian Authority's honoring of terrorists directly violates US conditions to receive funding, yet the US ignores its own laws and funds the PA. In this Jerusalem Post OpEd, PMW documents that through its negligence, the US is helping the PA to promote the murder of women and children.

Below see "letter to the editor" written by Sharona Tel-Oren, mother of 15-year-old Imri, who was murdered by Palestinian terrorists, responding to the US funding of PA honoring her son's murderer.
As US President Barack Obama prepares to welcome Palestinian Authority President Mahmoud Abbas to Washington this week, and US lawmakers debate the proposed $900 million aid package to the PA, it is once again using its money to proclaim that killing Israeli women and children is heroic.
The PA chose to name its latest computer center "after the martyr Dalal Mughrabi," who led the most deadly terror attack in the country's history. Her 1978 bus hijacking killed 37 civilians, 12 of them children, including American photographer Gail Rubin. The new center is funded by Abbas's office, which is bolstered by Western aid money. (
Al-Ayyam
, May 5)
US law prohibits the funding of Palestinian structures that use any portion of their budget to promote terror or honor terrorists. But $200 million of the US's proposed $900m. aid package is earmarked to go directly to the Abbas government, which regularly uses its budget to honor terrorists. In fact, this latest veneration of Mughrabi is not an isolated case, but part of a continuing pattern of honoring terrorists that targets children in particular.
Last summer the PA sponsored "the Dalal Mughrabi football championship" for kids, and a "summer camp named for martyr Dalal Mughrabi... out of honor and admiration for the martyr." It also held a party to honor exemplary students, also named "for the martyr Dalal Mughrabi," under the auspices of Abbas and at which Abbas's representative "reviewed the heroic life of the martyr [Mughrabi] (
Al-Hayat al-Jadida
, July 23, 24 and August 8, 2008). All these PA-funded activities were to teach kids that a killer of women and children is a role model.
TWO MONTHS AGO, 31 years to the day after the Mughrabi murders, PA TV broadcast a special program celebrating the terror attack, calling the killing of 37 civilians "one of the most important and most prominent special operations... carried out by a team of heroes and led by the heroic fighter Dalal Mughrabi" (PA TV March 11). And its not just Mughrabi who is a Palestinian hero. Despite professions in English by Abbas and other PA leaders that they reject terror, the PA has a long and odious history in Arabic of celebrating terrorists as role models and heroes, often involving US money.
USAID spent $400,000 in 2004 to build the Salakh Khalaf soccer field. After Palestinian Media Watch reported that Khalaf was the head of the Palestinian terror group that murdered 11 Israeli athletes at the Munich Olympics and two American diplomats in Sudan, USAID publicly apologized and said it would demand that the PA change the name. The name was never changed.
In 2002, US money funded renovations of the "Dalal Mughrabi school for girls". After PMW alerted the US State Department to Mughrabi's terrorist past, the funding was cancelled. Within 24 hours, the PA said the name would be changed, and the American money was reinstated. Once the work was completed, however, the school was renamed for the terrorist. It bears Mughrabi's name to this day.
AT A RECENT hearing of the House Appropriations Committee, US Secretary of State Hillary Clinton pledged: "We will work only with a Palestinian Authority government that unambiguously and explicitly accepts the Quartet's principles, [including] a commitment to nonviolence." And it's not just Clinton's pledge. US law interprets nonviolence to include not honoring terrorists: "None of the [US]... assistance under the West Bank and Gaza program may be made available for the purpose of recognizing or otherwise honoring individuals who commit, or have committed acts of terrorism" (2008 Foreign Operations Bill Sec. 657.B - C.1). This latest glorification of the terrorist Mughrabi, coming as Congress considers the administration's latest request to fund Abbas, imposes a profound responsibility on Congress. But it also creates a unique opportunity.
Will the US follow its own laws, and insist that the PA stop turning killers of women and children into heroes and role models before it receives another cent of US money? Congress and Obama can send a message to the PA that the US will not fund the PA, or any part of its budget, until it proves that it has ceased promoting terrorist murderers as heroes and role models. It can demand a statement from Abbas - in public, in Arabic and in the PA media - that murdering Israelis is terror, that terrorists are neither heroes nor holy martyrs and that they will no longer be honored.
Or they can send a different message to Abbas: that raising another generation of Palestinian children to the values of hate, murder and martyrdom is acceptable to the US - so acceptable that the US is even willing to fund it.
Click here to view article

Following is the letter written in response to this article, by Sharona Tel-Oren:


"Dear Editor, Thank you for the excellent article by Itamar Marcus and Barbara Crook about Abbas's glorification of terrorists which, as was pointed out, is largely funded by American money . It has not been reported, to my knowledge, that this issue was addressed at all during the Netanyahu-Obama meeting...

May I add that Gail Rubin was not the only American killed in the 1978 Coast Road terror attack. My son Imri, then in his fifteenth year, was another American citizen who lost his life in that attack, his father and brother wounded then as well, leaving a family shattered to this day. .Imri had been born on the Fourth of July, and his name in Hebrew (aleph, mem, reysh, yod) I realized later, spells out the first four letters of America! To this day,people, mostly strangers, call me, both from here and from America,, with the news that they have just had a baby boy, and named him Imri, a never-forgotten victim of that terrible day 31 years ago.

Two years before that horrific event, we had celebrated Imri's bar mitzva on his Jewish birthdate and, on July 4, 1976, the Gregorian one as well. It was a day not only marked by America's centennial celebration, but also by the heroic rescue at Entebbe. [NOTE: The writer refers to the Israeli rescue of more than 100 Jewish hostages in Uganda. Yonatan Netanyahu was killed in the raid].

'See, Imri,' I told him, then, 'fireworks all over America today, and this is how Tzahal [the Israeli Army] celebrates your birthday!' His eyes flashed appreciation at my quip. Euphoria gripped the world then, at the two spectacular events of the day, though for the Netanyahu family that day undoubtedly marks THEIR agony over Yoni's death. Since then, needless to say, every Fourth of July must be a day of mourning and remembrance for these two families. Will the coming Fourh of July show any signs of the change Obama promised the world, or will we see the continuation ot America's blind eye towards their funding of the incitement against Jews , and the shahid/hero cult of terror by the world's darlings, the Palestinian Authority leadership?

Sharona Tel-Oren, POB 134, Omer 84965"