PA District Governor visits mother of terrorist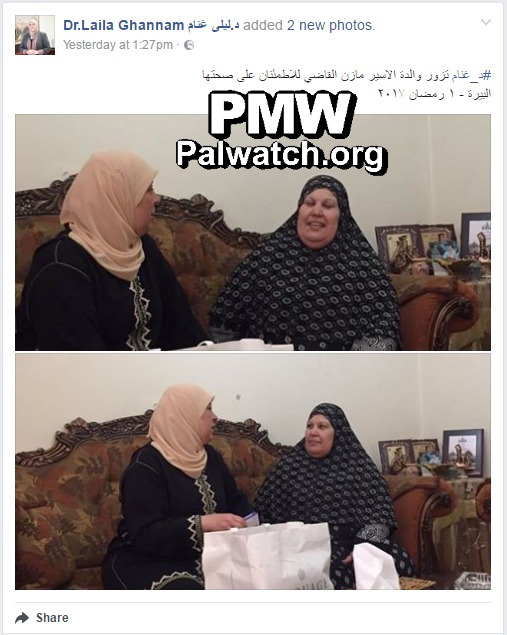 Text and pictures posted on the Facebook page of District Governor of Ramallah and El-Bireh Laila Ghannam

Posted text:
"[District Governor of Ramallah and El-Bireh] #Dr._[Laila_]Ghannam visits the mother of prisoner Mazen Al-Qadi (i.e., terrorist, involved in murder of 3) in order to be updated regarding the state of his health
El-Bireh – the first day of Ramadan, 2017"
The images show Laila Ghannam together with the mother of terrorist Mazen Al-Qadi.
Mazen Al-Qadi
– Palestinian terrorist who, together with Isaeli Arab terrorist and Al-Aqsa Martyrs' Brigades (Fatah's military wing) member Murad Nazmi Al-Ajlouni, drove terrorist Ibrahim Hassouneh to carry out an attack on two restaurants, the Seafood Market and Mifgash Hasteak, in Tel Aviv on March 5, 2002, in which 3 Israelis were murdered. Hassouneh shot from the car at diners and passersby with an assault rifle, wounding 15, and also threw two grenades that did not explode. When his weapon jammed, Hassouneh got out of the car with a knife and stabbed and murdered Yosef Habi, 52, and Eli Dahan, 53. Druze Israeli Police Officer Sergeant-Major Salim Barakat, 33, managed to subdue Hassouneh, but as Barakat was reporting his location to his police commander, Hassouneh suddenly broke free and stabbed Barakat in the throat, murdering him. Police shot and killed Hassouneh, while Al-Qadi and Al-Ajlouni fled the scene in their car, but were later arrested. Al-Qadi and Al-Ajlouni are each serving 3 life sentences and 20 additional years.