Fatah official praises terrorist who carried out car-ramming attack as "a Martyr of the homeland… This Martyrdom, this death, is a blow to the whole Palestinian people"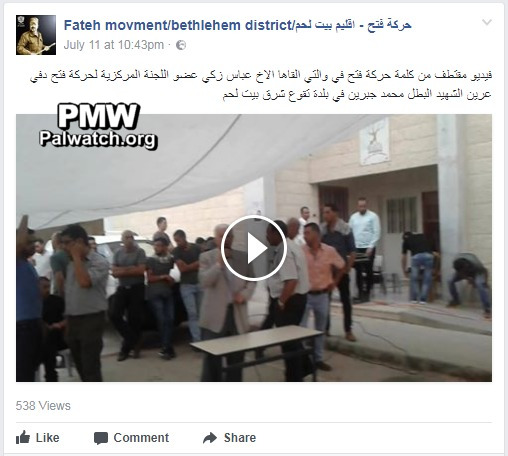 Text and video posted on the Facebook page of the Fatah Movement – Bethlehem Branch
Posted text
: "A video taken from the Fatah Movement speech held by Fatah Central Committee member Abbas Zaki at heroic Martyr (
Shahid
) Muhammad Jibrin's (i.e., terrorist, wounded 1) place of residence in the village of Taqua, east of Bethlehem"
Video:
Fatah Central Committee member Abbas Zaki:
"On behalf of the Fatah Movement, its leaders and members, the [Fatah] Central Committee and Revolutionary Council, we express full solidarity and love and emphasize that Muhammad Ibrahim Jibrin is a Martyr (Shahid) of the homeland, as Allah chooses the one He loves, and when He chooses the one He loves He causes mankind to love him, and connects them to him. This Martyrdom (
Shahada
), this death, is a blow to the whole Palestinian people, not only in the Bethlehem District, but among all those who belong to Fatah in the land and abroad, and among all those for whom the worries of the Palestinian people are close to their hearts, as Allah loved this Martyr and chose him and caused people to love him. Therefore, the respect [that they felt for him] was clearly expressed at the time of his funeral that occurred recently, and his burial in the ground. Everyone feels that they lost a man who had a professional life - (The video of the speech cuts off here –Ed.)"
Muhammad Jibril (also known as Muhammad Jibrin) - Palestinian terrorist who carried out a car ramming attack near the Jewish town of Tekoa, south of Jerusalem, on July 10, 2017. After injuring an Israeli soldier, he exited his car and attempted to stab other soldiers. He was shot and killed by the soldiers.