Fatah cartoon depicts Israel as a vulture closing its beak over the Al-Aqsa Mosque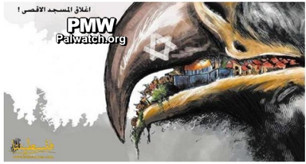 Cartoon posted on the Fatah in Lebanon's website Falestinona
Headline:
"The closure of the Al-Aqsa Mosque"
The cartoon shows a vulture with a Star of David on its beak and the Al-Aqsa Mosque plaza with the Dome of the Rock in its mouth. The "closure" refers to Israel closing the Temple Mount for two days and then placing metal detectors at its entrances following a terror attack there on July 14, 2017, in which 2 Israeli policemen were killed.
The article appears in the July 2017 edition of the magazine of Fatah's Information and Culture Commission in Lebanon, Al-Quds, and was posted on the commission's website Falestinona on July 17, 2017.

The "closure of the Al-Aqsa Mosque" refers to Israeli security measures at the Temple Mount, including metal detectors at the entrances, following an attack there on July 14, 2017, in which 2 Israeli border police officers were murdered by 3 Israeli Arab terrorists. On July 24, 2017, Israel decided to remove the metal detectors and security cameras it had placed at the site. The PA continued to demand that all measures including inspections at the entrances be removed, and Palestinians continued to riot. On July 27, 2017, PA religious leaders declared that all Israeli measures had been removed.