PA daily dedicates page to images of Jerusalem riots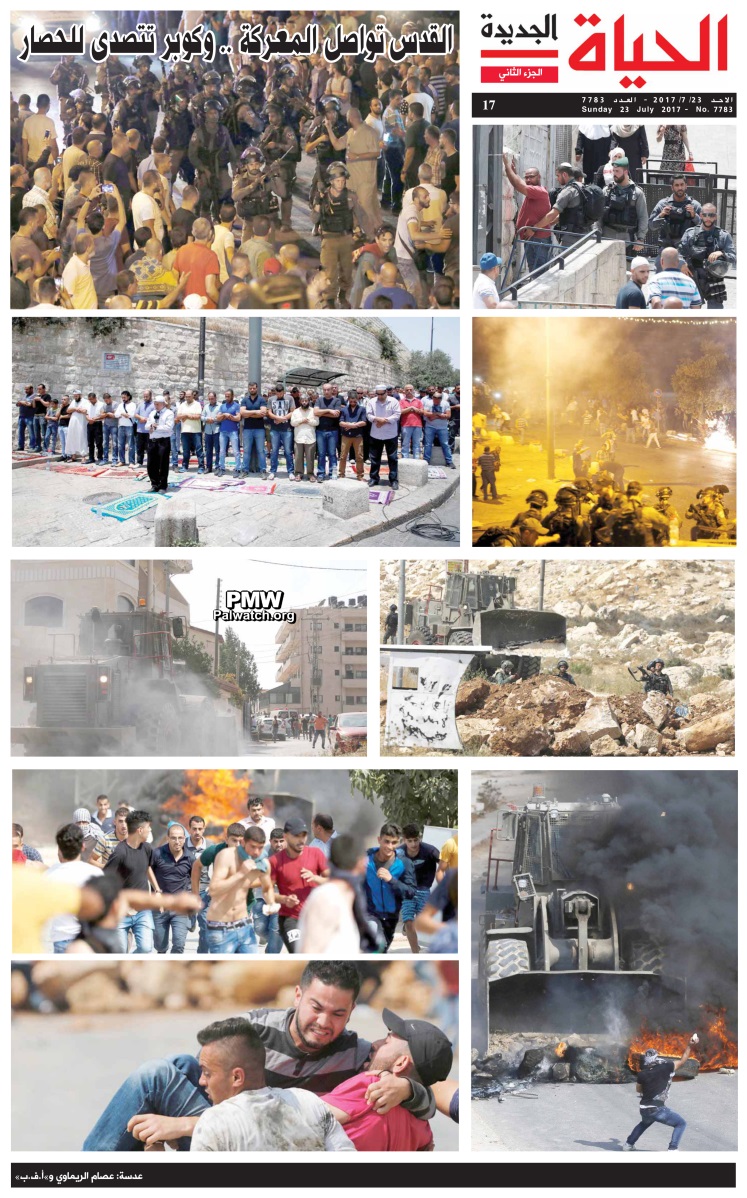 Headline: "Jerusalem continues in the battle, Kobar (i.e., village next to Halamish where a terrorist murdered 3 Israelis on July 21, 2017; see note below) comes out against the blockade"
Page 17 of the official PA daily is dedicated entirely to pictures of the riots taking place after Israel placed metal detectors at the entrances to the Temple Mount following an attack there on July 14, 2017, in which 2 Israelis were murdered – see note below.
Omar Al-Abd
– 19-year-old Palestinian terrorist who stabbed and murdered 3 Israelis - Yosef, Haya, and Elad Salomon - and severely injured 1 - Tova Salomon - as they sat at their Sabbath dinner table in Halamish, north of Ramallah, on July 21, 2017. Al-Abd was shot and wounded by a neighbor and taken into Israeli custody, receiving necessary medical treatment in an Israeli hospital. Before committing the attack, Al-Abd wrote in his "will" on Facebook that he was taking his knife to respond to what was happening at the Al-Aqsa Mosque and did not expect to return. A week earlier, a terror attack was carried out at the Temple Mount in which 2 Israelis were murdered. Following the attack Israel closed the Temple Mount for two days and reopened it with metal detectors at the entrance to the holy site. Palestinians interpreted these measures as an "aggression" and "attack" against the Al-Aqsa Mosque.

Muhammad Ahmad Muhammad Jabarin, Muhammad Hamed Abd Al-Latif Jabarin, and Muhammad Ahmad Mufaddal Jabarin - Israeli Arab terrorists aged 29, 19, and 19, who shot from the Temple Mount at Israeli policemen, murdering 2 Israeli Druze border policemen - Haiel Stawi and Kamil Shnaan, on July 14, 2017. Two of the terrorists were shot and killed by other policemen during the attack. The third terrorist was shot and killed while trying to flee.