Fatah Facebook glorifies terrorist who led murder of 37 as the "Bride of Palestine"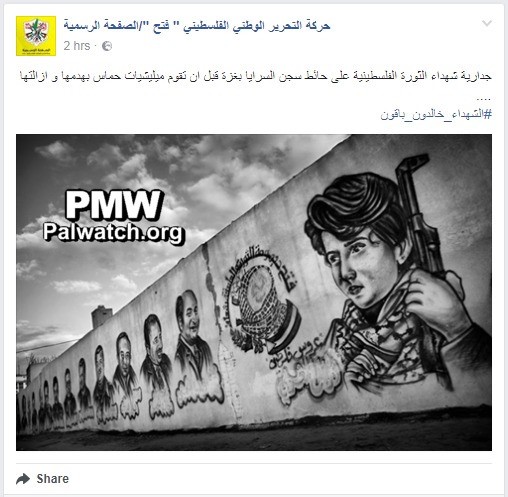 Image and text posted on the official Fatah Facebook page

Posted text:
"A wall painting of the Martyrs (
Shahids
) of the Palestinian revolution on the wall of Al-Saraya Prison in Gaza before Hamas' militias destroyed and removed it
#The_Martyrs_will_remain_forever"
The image shows the wall painting, and on its right side is a portrait of terrorist Dalal Mughrabi who led the murder of 37, 12 of them children. To the left of Mughrabi's portrait is an old Fatah logo featuring a Palestinian flag, an olive branch, and an assault rifle.

Text at the bottom left of Mughrabi's portrait:
"The Bride of Palestine Dalal Mughrabi"
Dalal Mughrabi
led the most lethal terror attack in Israel's history, known as the Coastal Road massacre, in 1978, when she and other Fatah terrorists hijacked a bus on Israel's Coastal Highway, murdering 37 civilians, 12 of them children, and wounding over 70.