Map of "Palestine" in PA embassy in Lebanon erases Israel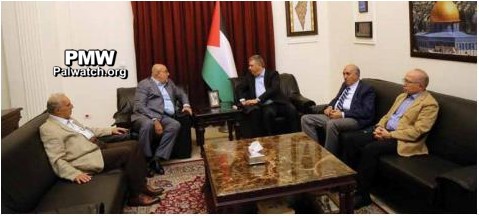 The article includes a picture from the meeting at Palestinian Ambassador to Lebanon Ashraf Dabour's office, with a Palestinian flag seen behind the participants. On the wall appears a picture of the PA map of "Palestine" that presents all of Israel as "Palestine" together with the PA areas.
Text on map:
"And prepare against them whatever you are able of power and of steeds of war [by which you may terrify the enemy of Allah and your enemy]" (Quran, Sura 8:60, Sahih International translation)
- The text is visible
in this photo 
of the map from the ambassador's office.
Headline: "Dabour welcomed a delegation from the Independent Nasserite Movement"
"Palestinian Ambassador to Lebanon Ashraf Dabour met yesterday [Aug. 10, 2017] with Secretary of the Independent Nasserite Movement – Al-Murabitoun's Leadership Council Mustafa Hamdan, accompanied by leadership council members Muhammad Qleilat, Yusuf Al-Tabsh, and Fuad Hassan."