Fatah branch invites Palestinians to rally commemorating "heroic" terrorist who carried out a car-ramming attack: "Your presence is a sign of loyalty to the blood of the Martyrs"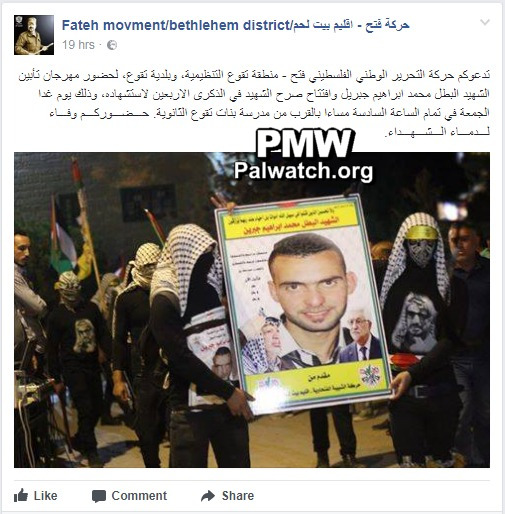 Image and text posted on the Facebook page of the Fatah Movement – Bethlehem Branch

Posted text:
"Fatah's Taqua organizational branch and the Taqua Municipality invite you to participate in the rally eulogizing heroic Martyr (
Shahid
) Muhammad Ibrahim Jibril (i.e., terrorist who carried out car ramming attack) and unveiling the Martyr's gravestone on the 40th day of his death as a Martyr tomorrow, Friday [Aug. 18, 2017], at 6:00 p.m. next to the Taqua High School for Girls. Your presence is a sign of loyalty to the blood of the Martyrs."
The image shows a previous rally in honor of terrorist Muhammad Jibril. Participants, wearing Fatah headbands and
keffiyeh
s (Arab headdresses), are holding a poster featuring Jibril's picture in the center, Yasser Arafat on the left, and PA Chairman Mahmoud Abbas on the right. At the bottom left and right appear the Fatah logo that includes a grenade, crossed rifles, and the PA map of "Palestine" that presents all of Israel as "Palestine" together with the PA areas.
Muhammad Jibril (also known as Muhammad Jibrin) - Palestinian terrorist who carried out a car ramming attack near the Jewish town of Tekoa, south of Jerusalem, on July 10, 2017. After injuring an Israeli soldier, he exited his car and attempted to stab other soldiers. He was shot and killed by the soldiers.