Fatah branch promotes violence by posting a photo of a Palestinian child holding a rifle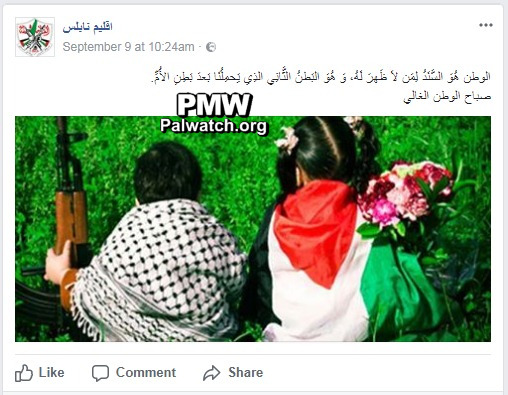 Image and text posted on the Facebook page of the Fatah Movement – Nablus Branch
Posted text:
"The homeland is the support for those who have no backing, and the second womb that carries us after mother's womb.
A morning of the precious homeland"
The image shows a boy and girl sitting together. On the right the girl is holding a bouquet of flowers and wearing a Palestinian flag, while on the left the boy is wearing a keffiyeh (Arab headdress) and holding a rifle.
The image previously appeared on June 10, 2015 on the official PA TV program "Photography." It was taken by Mahmoud Abu Hamdeh, a photographer from Gaza.