Jibril Rajoub visited the family of terrorist murderer
Itamar Marcus and Maurice Hirsch
|
Jibril Rajoub visited the family of terrorist murderer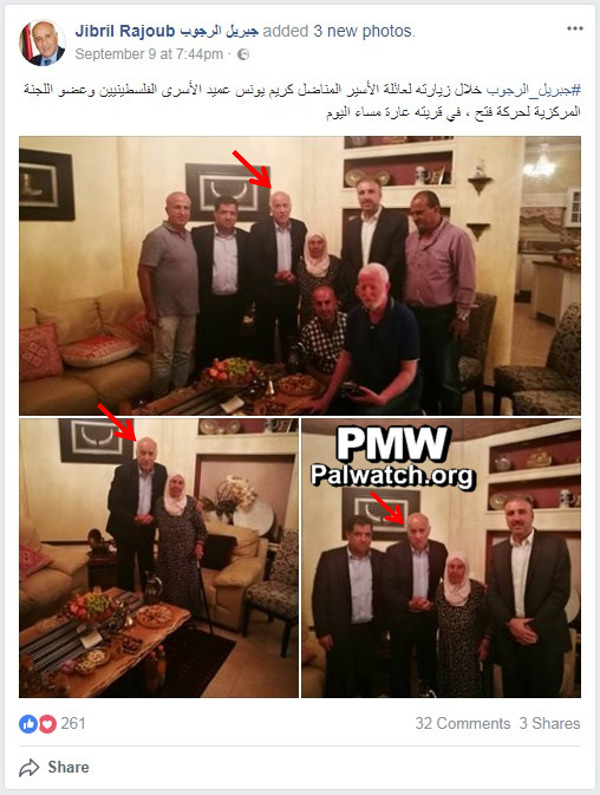 Pictures of Rajoub visiting family of terrorist murderer Karim Younes

Itamar Marcus and Maurice Hirsch


Fatah Central Committee Secretary Jibril Rajoub exploited his entry to Israel around two weeks ago in order to visit the family of terrorist murderer Karim Younes.
Karim Younes is an Israeli Arab who, together with his cousin Maher Younes, kidnapped and murdered Israeli soldier Avraham Bromberg in 1980. He was sentenced to life in prison. (His sentence was commuted to 40 years by Israeli President Shimon Peres in 2012.)
In a post on his Facebook page, Rajoub took pride in having visited the murderer's family in the village of 'Ara, and he posted pictures of himself with the family members.
Palestinian Media Watch
checked and found that the Israeli Coordinator of Government Activities in the Territories had not approved Rajoub's visit to the murderer's family.
The following is a translation of the text of Rajoub's post, which appeared on his Facebook page together with the pictures:
"Jibril Rajoub during his visit to the family of prisoner fighter Karim Younes, the most veteran Palestinian prisoner and a Fatah Movement Central Committee member, in his village of 'Ara this evening."
[Facebook page of Jibril Rajoub, Sept. 9, 2017]