What killed Arafat - AIDS, Abbas, or Israel?
Itamar Marcus and Nan Jacques Zilberdik
|
The Palestinian Authority briefly closed down the Al-Jazeera offices in the West Bank last week after the news network broadcast an accusation that PA Chairman Mahmoud Abbas helped Israel kill Yasser Arafat in 2004 (see final item below). The conspiracy libel that Israel murdered Arafat has been disseminated by the Palestinian Authority since his death, but this is the first time that Abbas has been accused of being part of the plot. Other explanations have also been proposed.

2007 - Ahmad Jibril: The PA knows that Arafat died of AIDS
After Arafat's death there were rumors that he had died of AIDS. Support for this came in 2007 from Ahmad Jibril, senior PLO leader and head of the PFLP-GC (Popular Front for the Liberation of Palestine - General Command). Jibril said on Hezbollah TV that a member of PA Chairman Mahmoud Abbas's delegation had told him personally that Arafat died of AIDS.

Ahmad Jibril, PLO leader and head of PFLP-GC:
"When [PA Chairman] Abu Mazen (Mahmoud Abbas) came to Damascus, I asked: 'What was found in the [medical] inquiry into the death of brother Arafat?'" One of the [delegation] said: 'Frankly, the French gave us the medical report, and the cause of Arafat's death was AIDS.'"
[Al-Manar (Hezbollah TV) July 5, 2007]

Note that the above was broadcast on Hezbollah TV, not on Palestinian TV. This information has never been released to the Palestinian public through the Palestinian media.

2004-2009 Conspiracy libel 1: Israel killed Arafat
When Yasser Arafat became ill and died in November 2004, the Palestinian Authority created a conspiracy libel that Israel had poisoned him. To give credence to this libel, the PA concocted an international intrigue in which Israel initiated the murder plan, the US approved (with certain conditions), and the French doctors who treated Arafat concealed the truth in order to salvage the peace process.

Click here to see examples of this libel

Following are examples of PA libel that Israel killed Arafat:

Bassam Abu Sharif, former adviser to Arafat:
"According to the confirmed information I have, [Israeli Chief of Staff, Shaul] Mofaz spoke to [Israeli PM Ariel] Sharon in the following manner: 'This is a chance to get rid of Yasser Arafat...' Sharon was silent for a moment, and then looked [at Mofaz and said], 'Only if it could be done in a way that the accusing finger wouldn't be pointed at Israel.' These are the exact words.
When I found out about this, I wrote a letter to... Yasser Arafat, in which I warned him of their desire to kill him, probably by means of poison. The letter's date is clear, this is the letter [shows the letter]. The black [marking] is [the marking of] Yasser Arafat, the lines were drawn by Yasser Arafat. This is the date, June 5, 2002... The Israelis planned to kill him by poison, because of Sharon's promise to the Americans that [Arafat] will not be killed by bombing.
The source, and this is the first time I'm saying it... I saw him after the death and burial of Arafat. I asked him, and he replied that the French know about this. I think that the French hid this matter because France is a powerful country that isn't interested in igniting the area, and is interested in peace and the establishment of a country for the Palestinian nation, and reviving the topic would mean that every Palestinian would see it as his duty to avenge [the death of] Yasser Arafat."
[PA TV (Fatah), Nov. 11, 2005]

Cartoon, PA daily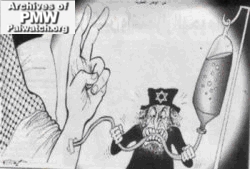 Published when Arafat was sick in hospital two weeks before his death, the cartoon on the right shows a demonized Jew biting Arafat's IV line as he signals "V" for peace. This cartoon, indicating Israel was trying to kill Arafat, was published in the official PA daily.
[Al-Hayat Al-Jadida, Oct. 31, 2004]

Ibrahim Mudayris, Official, PA Ministry of Religious Trusts and Religious Affairs:
"We are absolutely sure that the Zionist government is responsible for the attempt to kill the President [Arafat]. We have no doubt that it somehow poisoned him to kill him slowly... These [Jews] are cursed apes and pigs. It is our right to pray to Allah to cure him and to plant poison in the hearts of those pigs. Have you seen them on TV hugging, singing and dancing - those apes, those pigs - at the news of our President's [impending] death?"
[PATV (Fatah), Nov. 4, 2004]

PA TV host, speaking to Nasser Al-Qidwa, Chairman, Board of Directors, Institute for Commemoration of Arafat and former PA Foreign Minister:
Al-Qidwa: "Personally, I am convinced - and we have spoken about this on more than one occasion. I have spoken about Israel's responsibility [for Arafat's death] in any event, due to the siege that was imposed."
PA TV host: "The murder - the murder operation - was carried out against the Shahid (Martyr) [Arafat]... All the evidence proves that they [Israel] carried out an elimination or assassination operation."
[PATV (Fatah), March 31, 2009]
2009 Conspiracy libel 2: Israel and Abbas killed Arafat
Farouk Kaddumi accuses Abbas and Israel of killing Arafat:
"Farouk Kaddumi [Secretary-General of the Fatah Central Committee and Head of the PLO Political Department] said at a press conference in Jordan last Sunday (July 12, 2009) that Arafat, prior to his death, had entrusted to him the protocol of a secret meeting of Abbas and Dahlan with former Israeli Prime Minister Ariel Sharon and American Intelligence officers, during which they planned the assassination of Arafat and other leaders of the Palestinian resistance factions."
[Al-Jazeera website, July 16, 2009]