Fatah glorifies "heroic Martyr" who killed 3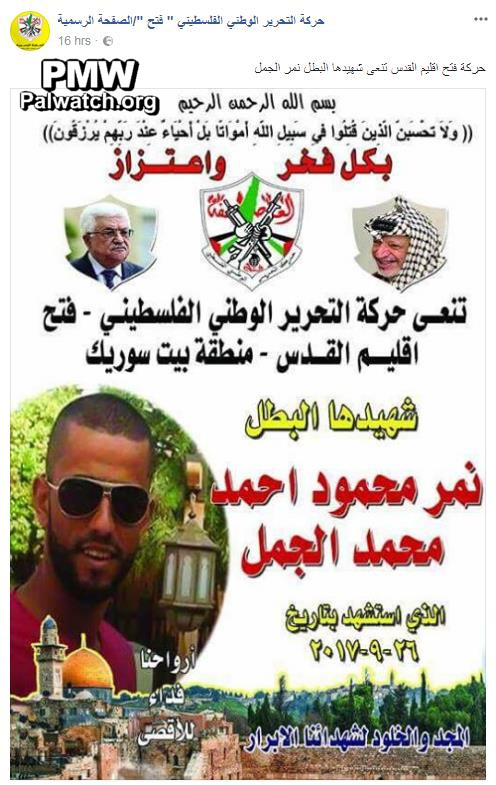 Image posted on the official Fatah Facebook page
Posted text:
"The Fatah Movement – Jerusalem Branch announces the death of its heroic Martyr (
Shahid
) Nimr Ahmed Al-Jamal (i.e., terrorist, murdered 3)."
The image is an announcement of the death of terrorist Nimr Mahmoud Ahmed Al-Jamal. The announcement shows the Fatah logo that includes a grenade, crossed rifles, and the PA map of "Palestine" that presents all of Israel as "Palestine" together with the PA areas. To the left of the logo is a picture of PA Chairman Mahmoud Abbas, and to the right is a picture of former PLO and PA Chairman Yasser Arafat. Below appears a picture of Al-Jamal, and below it is a picture of the Temple Mount.
Text on image:
"In the name of All Merciful Allah, 'And never think of those who have been killed in the cause of Allah as dead. Rather, they are alive with their Lord, receiving provision' [Quran, Sura 3:169, Sahih International translation]
With great honor and pride
The Palestinian National Liberation Movement Fatah
Jerusalem branch, Beit Surik region
Announces the death of its heroic Martyr (
Shahid
)
Nimr Mahmoud Ahmed Al-Jamal
Who died as a Martyr on Sept. 26, 2017
Eternity and glory to our righteous Martyrs
Our souls for the Al-Aqsa Mosque"
Nimr Mahmoud Ahmed Al-Jamal - Palestinian terrorist who shot and murdered an Israeli border police officer and 2 security guards and wounded another Israeli at the entrance to Har Adar, northwest of Jerusalem, on Sept. 26, 2017. Al-Jamal was shot and killed during the attack by other border police officers.