Fatah branch praises terrorist mass murderers as "giants"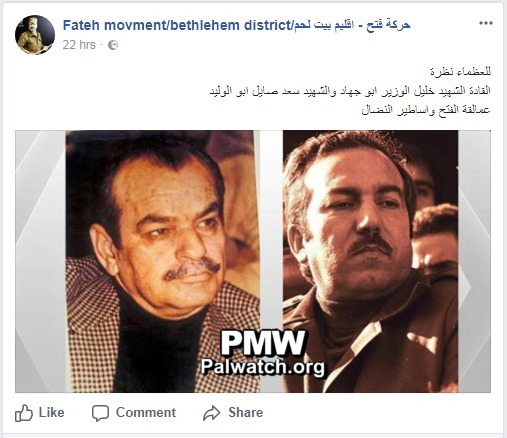 Image and text posted on the Facebook page of the Fatah Movement – Bethlehem Branch
Posted text:

"A look at the Martyrs (
Shahids
)
Martyr leaders Khalil Al-Wazir 'Abu Jihad' (i.e., terrorist, responsible for murder of 125) and Martyr Saad Sayel 'Abu Al-Walid' (i.e., senior Fatah terror commander)
Fatah giants and legends of the struggle"
The image shows Saad Sayel on the left and Khalil Al-Wazir on the right.
Abu Jihad
(Khalil Al-Wazir) - was a founder of Fatah and deputy to Yasser Arafat. He headed the PLO terror organization's military wing and planned many deadly Fatah terror attacks murdering 125 Israelis. This included the most lethal in Israeli history, the hijacking of a bus and murdering of 37 civilians, 12 of them children.

Saad Sayel - Senior Fatah commander. He led the PLO forces that were based in Lebanon during the early 1980s.