Fatah Facebook honors terrorist who stabbed 4 in a "stabbing operation"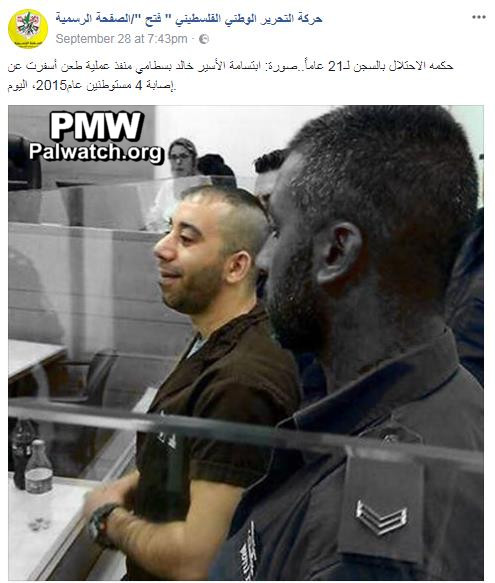 Image and text posted on the official Fatah Facebook page
Posted text:
 "The occupation sentenced him to 21 years. In the picture: The smile of prisoner Khaled Bastami (i.e., terrorist, wounded 4) – who carried out a stabbing operation that caused the wounding of 4 settlers (the attack took place in the coastal town of Ra'anana –Ed.) in 2015 – today [Sept. 28, 2017]."
The image shows terrorist Khaled Bastami smiling in court on Sept. 28, 2017, during his sentencing. The image has been altered so that only Bastami is in color, and the rest of the photo is in black and white.
Khaled Bastami - Palestinian terrorist from East Jerusalem who stabbed and wounded 4 Israeli civilians in the Israeli town of Ra'anana on Oct. 13, 2015. Bastami was subdued by civilians until police forces arrived on the scene, and is serving a 21 year sentence.