PMW changing the media narrative on Israel
PMW changing the media narrative on Israel

Headline: Israeli government cultivates natural allies at its first-ever Christian media summit

by Alex Traiman
More than 130 journalists from 30 countries converged in Jerusalem for Israel's inaugural Christian Media Summit, which was sponsored by the Government Press Office and spearheaded by Minister of Jerusalem Affairs and Heritage Ze'ev Elkin. […]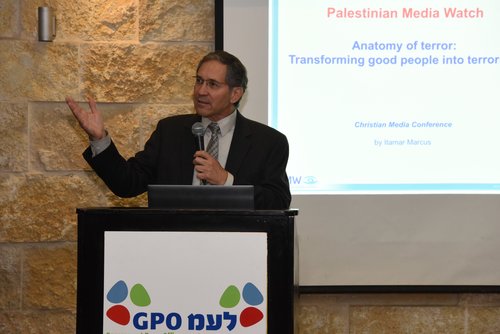 Itamar Marcus, founder of Palestinian Media Watch, gives a presentation on Palestinian incitement at Israel's Christian Media Summit. Credit: Lihi Shapire/GPO.
A major component of the conference was geared towards explaining how mainstream media have been impacted by "Palestinian propaganda" that includes decades of incitement against Israel by the Palestinian Authority (PA).
Itamar Marcus, founder of Palestinian Media Watch—a group that monitors Arabic-language messaging within Palestinian television, print media and school textbooks—gave a lengthy presentation detailing anti-Semitic broadcasts by PA-run networks during the last six months.

"Palestinian media and schoolbooks are broadcasting messages of hatred," Marcus told JNS.org.
Veteran Palestinian affairs journalist and field producer Khaled Abu Toameh seconded Marcus's message
when addressing summit attendees, asserting that "there hasn't been any attempt by the Palestinian Authority to prepare the Palestinian people for peace with Israel—to the contrary. Ironically, Palestinian incitement intensified after the signing of the Oslo Accords." "There is no peace process," Abu Toameh said.
[http://www.jns.org/latest-articles/2017/10/19/israeli-government-cultivates-natural-allies-at-its-first-ever-christian-media-summit#.WewvnmhL_IU=]