Fatah FB and official PA daily commemorate founder of Islamic Jihad terror organization
Posted on the official Fatah Facebook page on Oct. 26, 2017 and published in the official PA daily
Al-Hayat Al-Jadida
on Oct. 27, 2017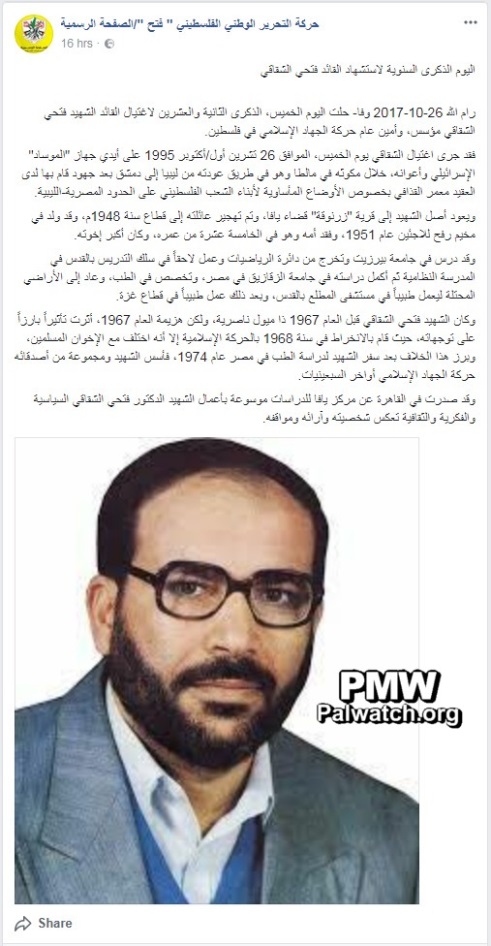 Headline: "22 years since the death as a Martyr of commander Fathi Shaqaqi"
"Today, Thursday [Oct. 26, 2017], is the 23rd anniversary of the assassination of commander Martyr (
Shahid
) Fathi Shaqaqi, founder and secretary-general of the Islamic Jihad Movement in Palestine (i.e., terrorist organization).
The assassination of Martyr Shaqaqi took place on Thursday, Oct. 26, 1995, at the hands of the Israeli Mossad (Israeli Secret Intelligence Service) forces and its collaborators while he was in Malta, on his way back from Libya to Damascus…
Before 1967, Martyr Fathi Shaqaqi had Nasserist tendencies ( i.e., a socialist Arab nationalist political ideology), but the defeat of 1967 (i.e., the Six Day War) deeply affected his perspective and he joined the Islamic movement in 1968. However, he disagreed with the ideas of the Muslim Brotherhood, and this disagreement stood out following the Martyr's travel to Egypt for medical studies in 1974, and the Martyr and a group of his comrades established the Islamic Jihad Movement in the latter part of the 1970s.
The Jaffa Research Center published an encyclopedia on the political, ideological, and cultural activities of Martyr Doctor Fathi Shaqaqi, which reflects his personality, opinions, and perspectives."
The image shows terrorist Fathi Shaqaqi.
Fathi Shaqaqi
- Founder of the terrorist organization Islamic Jihad, which has carried out more than 1,000 terror attacks, murdering and wounding hundreds of Israeli civilians. He was killed by Israel in Malta in 1995.