PA accuses Israel of using "poisonous gas" while exploding terror tunnel
Itamar Marcus and Maurice Hirsch
|
PA accuses Israel of using "poisonous gas"
while exploding terror tunnel
Itamar Marcus and Maurice Hirsch
Yesterday, Israel carried out a controlled explosion to destroy an attack tunnel dug by the Palestinian Islamic Jihad (PIJ) terror group that started in the Gazan city of Khan Younis and crossed into Israeli territory.
A member of Islamic Jihad, Khaled Al-Batsh, explained [in Al-Dustour (Jordanian newspaper), Oct. 31, 2017] that the tunnel that Israel attacked "was intended for freeing prisoners from the Israeli occupation prisons." Al-Batsh was implying that the purpose of the tunnel was to facilitate the entry of Islamic Jihad terrorists into Israel, to kidnap Israelis who would then be used as hostages to force Israel to release prisoners.
At least seven members of the Islamic Jihad and Hamas terror organizations, including senior terrorist commanders, were killed in the explosion of the tunnel.
Instead of condemning the digging of the terror tunnel, Mahmoud Abbas's PA and Fatah chose to accuse Israel of using "poisonous gas" in breach of International law.
The following are the articles in more detail:
Spokesman of the PA Ministry of Health in Gaza Ashraf Al-Qudra:
"Most of the injuries among the Martyrs (Shahids) and wounded occurred during the inhalation of gas (there is no evidence Israel used gas in destroying the attack tunnel -Ed.)... There is speculation that Israel used an internationally forbidden weapon during this incident. Therefore, we call on all of the international organizations to stop these materials that the Israeli occupation is using against our unarmed people."
[Official PA TV, Oct. 30, 2017]
Official PA daily Al-Hayat Al-Jadida:
"Yesterday [Oct. 30, 2017] medical sources announced the death of eight Martyrs (Shahids) and the wounding of 12 others... due to Israeli bombing of a tunnel...
A medical source in the Al-Aqsa Martyrs Hospital, Deir Al-Balah, revealed that poison gas was used in the missiles that hit the tunnel, (sic., The tunnel was exploded in a controlled explosion carried out at the Israeli end of the tunnel. No missiles were fired by Israel) and that the doctors still do not know what type it is, since it was used for the first time ...
The Fatah Movement condemned the Israeli crime and emphasized in a statement yesterday that this pure blood was not spilled in vain, and that those who committed the crime will not escape justice."
[Official PA daily Al-Hayat Al-Jadida, Oct. 31, 2017]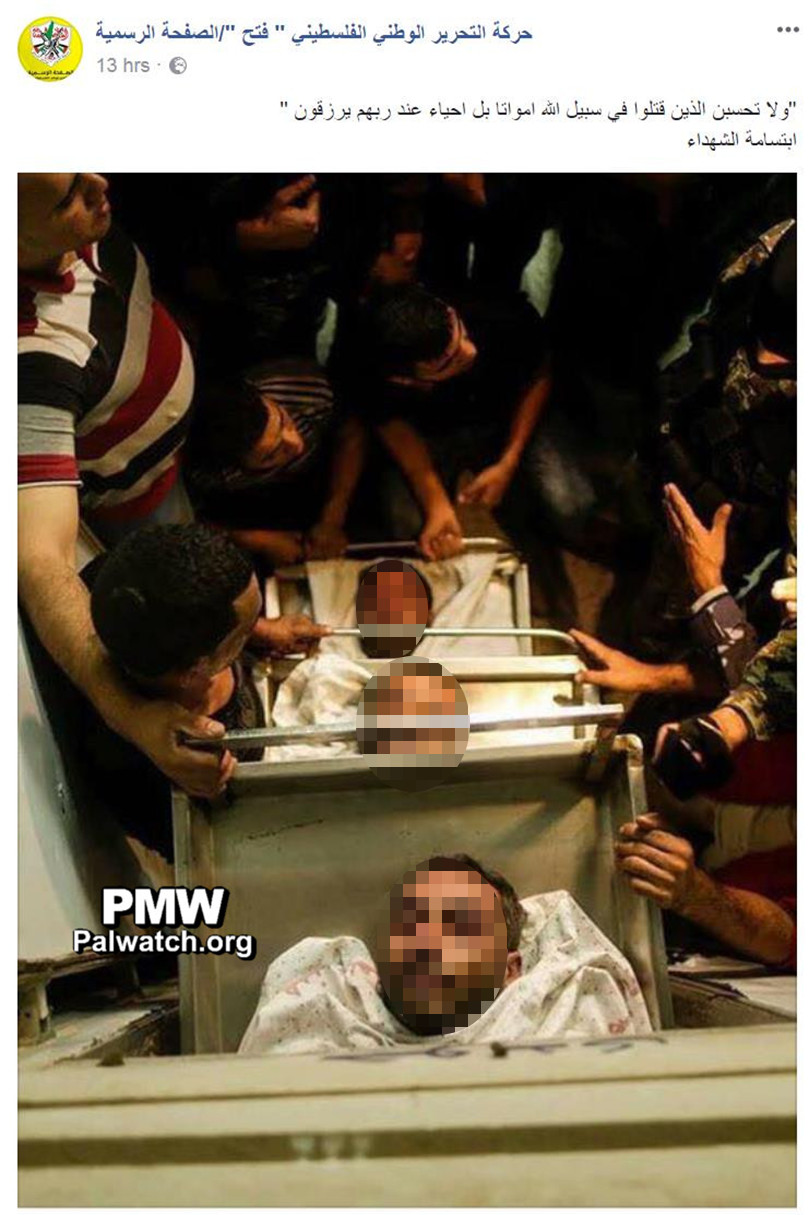 The official Facebook page of Mahmoud Abbas' Fatah party posted pictures of three of the dead terrorists.
The text in the post reads:
"'And never think of those who have been killed in the cause of Allah as dead. Rather, they are alive with their Lord, receiving provision.' (Quran, Sura 3:169, Sahih International translation)
"The smile of the Martyrs (Shahids)"
[Official Fatah Facebook page, Oct. 30, 2017]
The image shows 3 terrorists who were killed as a result of the explosion. PMW has blurred their faces.