Cartoon on Fatah website depicts UK PM May holding a bloody "Balfour Declaration," with skulls in the background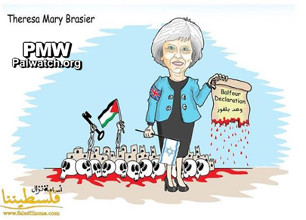 Cartoon posted on Falestinona, the website of Fatah's Information and Culture Commission in Lebanon
Headline: "British Prime Minister Theresa May celebrates the Balfour Promise (i.e., Declaration)"
The cartoon shows British Prime Minister Theresa May holding an Israeli flag and a document labeled "Balfour Declaration," which is dripping blood. In the background are lying skulls in a pool of blood with skeleton hands rising from among them holding a key symbolizing the right of return of the Palestinian refugees, and a Palestinian flag.
In the upper left corner is written Theresa May's maiden name: "Theresa Mary Brasier"
The Balfour Declaration of Nov. 2, 1917 was a letter from British Foreign Secretary Arthur Balfour to Baron Rothschild stating that "His Majesty's government views with favour the establishment in Palestine of a national home for the Jewish people." In 1922, the League of Nations adopted this and made the British Mandate "responsible for putting into effect the declaration," which led to the UN vote in 1947 and the establishment of the State of Israel.