PA official media outlets express mourning over the Balfour Declaration
To mark the occasion of the 100 year anniversary of the Balfour Declaration, all official PA print media, WAFA and the official PA daily, including its front page, came out only in black. PA TV news readers and reporters all wore black. The front page of the official PA daily,
Al-Hayat Al-Jadida
, had a giant headline: "The null and void promise"
The front page also had a cartoon of British Prime Minister Theresa May driving a tractor with "the Balfour Declaration" to crush "Palestinian rights."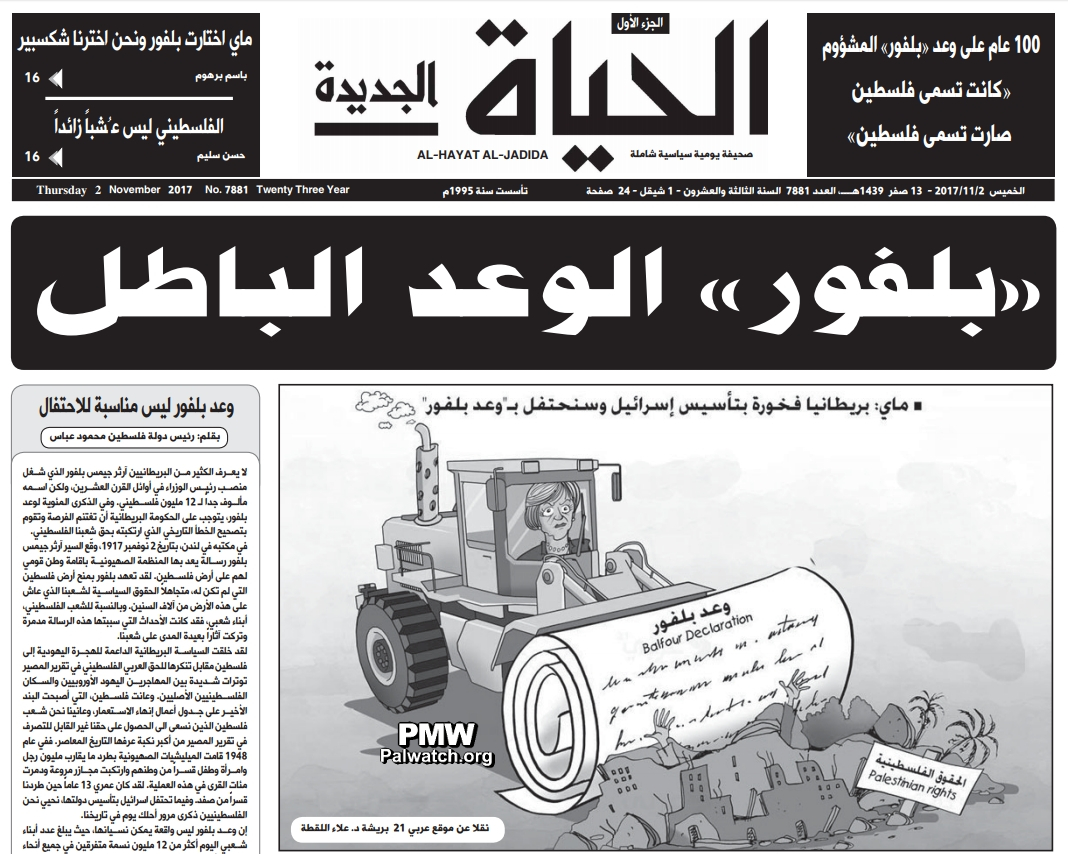 Above the cartoon are the words: "May: 'Britain is proud of the creation of the State of Israel, we will celebrate the Balfour Declaration.'"

WAFA ,the official PA news agency, reported on the same day: "Marking the 100 year anniversary for the sad occasion of the Balfour Declaration, the state-run media in Palestine came out on Thursday in black... Staff at Palestine TV wore black as the term 'Down with Balfour Declaration" was posted in Arabic, English and Hebrew on the TV screen."

Click to view bulletin


British Prime Minister Theresa May's exact quote before the British House of Commons on Oct. 25, 2017, was: "We are proud of the role that we played in the creation of the State of Israel, and we will certainly mark the centenary with pride."

The Balfour Declaration of Nov. 2, 1917 was a letter from British Foreign Secretary Arthur Balfour to Baron Rothschild stating that "His Majesty's government views with favour the establishment in Palestine of a national home for the Jewish people." In 1922, the League of Nations adopted this and made the British Mandate "responsible for putting into effect the declaration," which led to the UN vote in 1947 and the establishment of the State of Israel.


» View analysis citing this item