Monument for terrorist stabber shaped like map of "Palestine"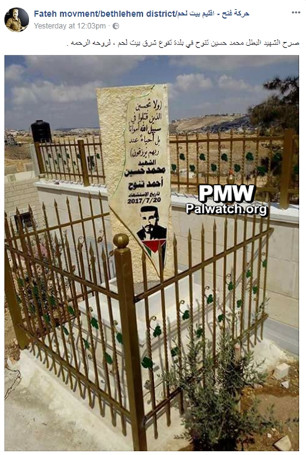 Image and text posted on the Facebook page of the Fatah Movement – Bethlehem Branch

Posted text
: "Heroic Martyr (
Shahid
) Muhammad Hussein Tanouh (i.e., terrorist, attempted to stab Israeli soldiers) monument in the village of Taqua, e ast (sic., south) of Bethlehem."
The image shows a monument to terrorist Muhammad Tanouh, which is in the shape of the PA map of "Palestine" that presents all of Israel as "Palestine" together with the PA areas. At the bottom of the monument is a picture of terrorist Tanouh and a Palestinian flag.
Text on monument:
"In the name of all merciful Allah, 'And never think of those who have been killed in the cause of Allah as dead. Rather, they are alive with their Lord, receiving provision' [Quran, Sura 3:169, Sahih International translation]
Martyr Muhammad Hussein Ahmed Tanouh
Date of his death as a Martyr: July 20, 2017"
Muhammad Tanouh – Palestinian terrorist who attempted to stab Israeli soldiers at the entrance to the village of Taqua, south of Bethlehem, on July 20, 2017, and was shot and killed by them.