Image on Palestinian Football Association's Facebook page depicts map of "Palestine" erasing Israel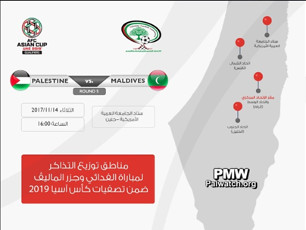 Image and text posted on the Facebook page of the Palestinian Football Association
Posted text:
"The ticket distribution points for the match between the Fida'i (i.e., self-sacrificing fighter, refers to the Palestinian national team) and the Maldives national team as part of the fifth round of the 2019 Asian Cup qualifiers
#Palestine_Maldives"
The right side of the image shows the PA map of "Palestine" that presents all of Israel as "Palestine" together with the PA areas. Four locations are marked and labelled on the map: the Arab American University stadium in Jenin, the northern Palestinian Football Association (PFA) headquarters in Nablus, the central PFA headquarters in Al-Ram, and the southern PFA headquarters in Hebron.
To the left of the map appear the logos of the AFC Asian Cup UAE 2019 and the PFA, along with information about the match.
Text in red box on image:
"The ticket distribution points for the match between the Fida'i and the Maldives as part of the 2019 Asian Cup qualifiers."