Fatah branch glorifies terrorist driver of suicide bomber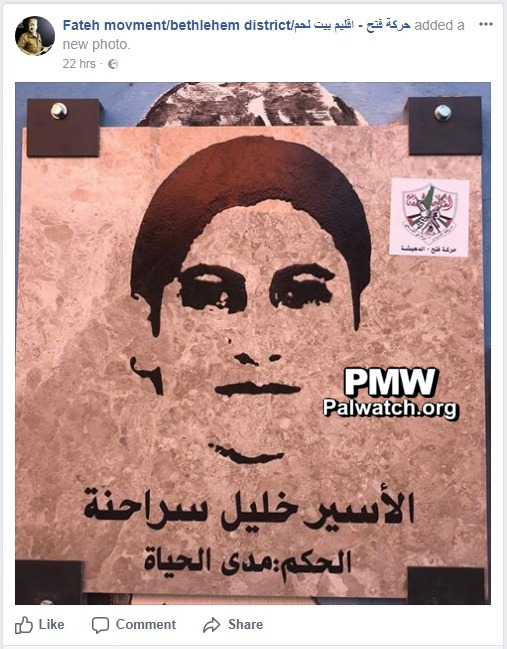 Image posted on the Facebook page of the Fatah Movement – Bethlehem Branch
The image shows the face of terrorist Khalil Sarahneh, who drove a suicide bomber who murdered 1. In the upper right corner appears the Fatah logo that includes a grenade, crossed rifles, and the PA map of "Palestine" that presents all of Israel as "Palestine" together with the PA areas.
Text on image:
"Prisoner Khalil Sarahneh (i.e., terrorist, participated in murder of 1)
Sentence: Life"
Khalil Sarahneh – Israeli Arab terrorist who drove a suicide bomber to Jerusalem on April 1, 2002. Israeli police officer Tomer Mordechai, 19, stopped the car to ask for documentation, at which point Sarahneh fled the car and the bomber detonated, murdering Mordechai. The Al-Aqsa Martyrs' Brigades (Fatah's armed wing) took responsibility for the attack. Sarahneh is serving a life sentence and 20 additional years.