Poster at event in PA school features map of "Palestine" that erases Israel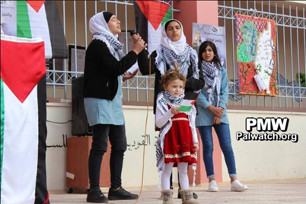 Image and text posted on the Facebook page of the PA Ministry of Education


Posted text:
"The [PA] Ministry of Education marks
Keffiye
h (Arab headdress) Day in its schools through events inside the homeland and outside of it."
In the image a girl is seen singing into a microphone, and to the right a poster is visible hanging on the railing of a school. The poster features the PA map of "Palestine" that presents all of Israel as "Palestine" together with the PA areas.
In the main image PA Minister of Education and Fatah Central Committee Deputy Secretary Sabri Saidam is seen giving a speech.