Fatah calls for freedom for imprisoned terrorists, including a murderer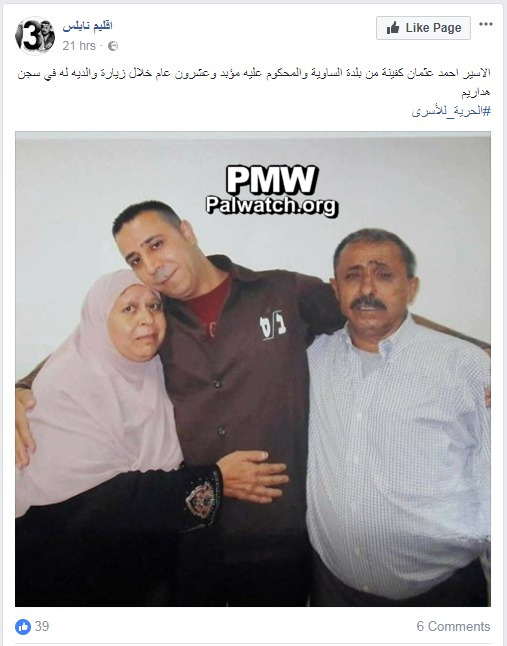 Image and text posted on the Facebook page of the Fatah Movement – Nablus Branch
Posted text:
"Prisoner Ahmad Othman Kafina (i.e., terrorist, murdered 1) from the village of Al-Sawiya, who is sentenced to life and another 20 years, during a visit by his parents at the Hadarim Prison
#Freedom_for_the_prisoners"
The image shows terrorist Ahmad Othman Kafina with his parents.
Ahmad Othman Kafina – Palestinian Fatah-affiliated terrorist who murdered Israeli Kinneret Ben Shalom Hajbi, and wounded 4 others in a stabbing attack on a taxi shuttle van from Petah Tikva to Tel Aviv on Feb. 5, 2006. After boarding the van, Kafina pulled out a knife and began stabbing passengers. Kafina pursued passengers who fled the van until he was subdued by an Israeli security guard and an Israeli civilian. Under investigation Kafina said that he had come to Petah Tikva to murder Jews. Kafina is serving 1 life sentence.