Fatah glorifies bomb makers and shooters
Fatah glorifies bomb maker,

posting photo of her as a teenager
Fatah glorifies shooter and murderer,

posting photo of his "childish face"


By Nan Jacques Zilberdik


In keeping with the habit of Mahmoud Abbas' Fatah Movement to praise and elevate terrorists to the status of role models, the movement posted a photo of bomb maker Shadia Abu Ghazaleh as a teenager on its Facebook page on the anniversary of her death, with the text: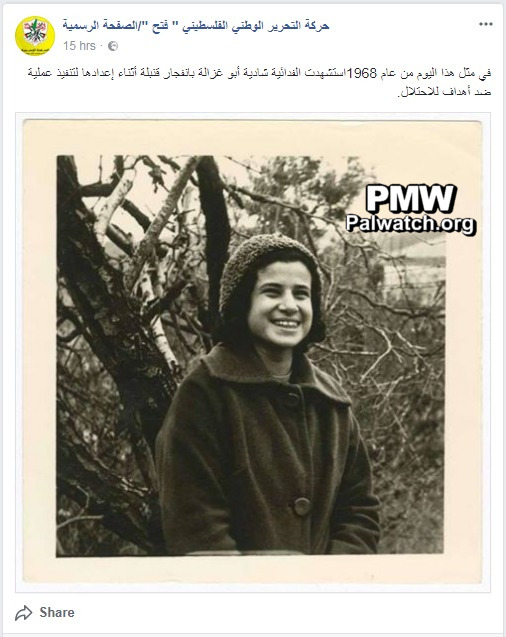 "On this exact day in 1968, self-sacrificing fighter (Fida'iya) Shadia Abu Ghazaleh died as a Martyr (Shahid) in the explosion of a bomb, while preparing it for carrying out an operation (i.e., terror attack) against occupation targets."

[Official Fatah Facebook page,
Nov. 28, 2017]

'

Shadia Abu Ghazaleh was active in the Popular Front for the Liberation of Palestine (PFLP) terror organization and prepared bombs for many attacks against Israel. While she was preparing a bomb for an attack in Tel Aviv in 1968, it accidentally detonated and killed her.

That the Palestinian Authority wishes to promote Abu Ghazaleh as a role model for Palestinians is also evident from the fact that they have named a school after her. As documented by
Palestinian Media Watch
, girls attending this school
view the bomb maker as a hero
:


"The school is named after her to commemorate her and memorialize her and encourage people to be like her."


"She was a model of the wonderful female Palestinian fighter. We follow her path in this school."

[Official PA TV, Dec. 5 and 9, 2013]


It is possible that Fatah chose a photo of the bomb maker as a teenager deliberately, so as to make young Palestinians identify with the terrorist and aspire to emulate her.


Similarly, Fatah recently glorified another terrorist, posting a photo of Atef Abayat with a headline emphasizing his "childish face." Atef Abayat murdered an Israeli woman in a 2001 shooting attack in the West Bank. He was also accused of shooting at the Jerusalem neighborhood of Gilo. One of the posts glorified this: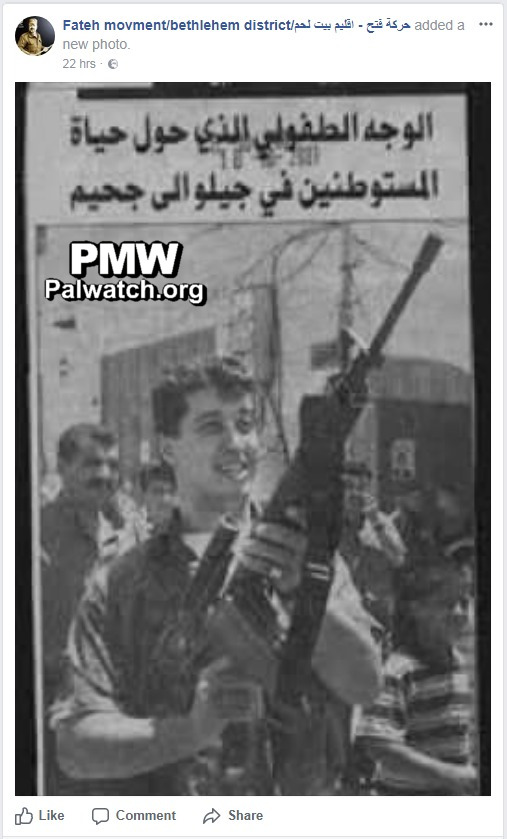 "The childish face that turned the lives of the settlers in Gilo into hell"

[Facebook page of the Fatah Movement - Bethlehem Branch, Oct. 18, 2017]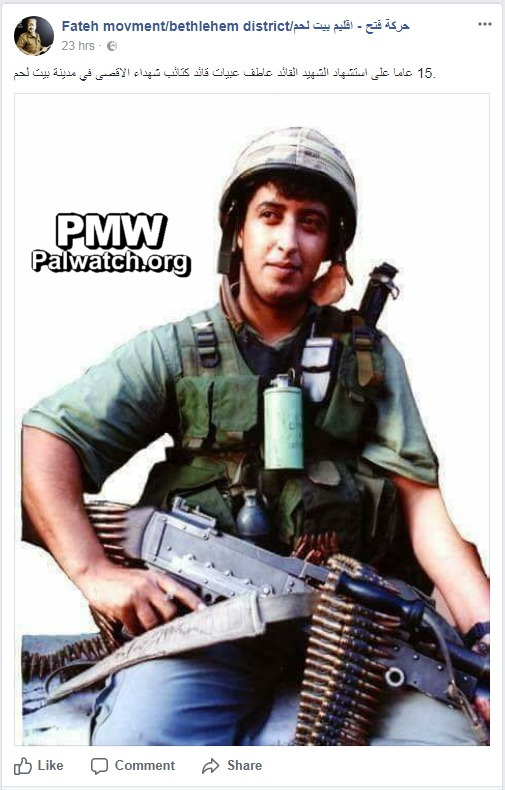 The other post praised the murderer as a "Martyr":


Posted text: "Fifteen years since the death as a Martyr (Shahid) of commander Atef Abayat, commander of the Al-Aqsa Martyrs' Brigades (i.e., Fatah's military wing) in Bethlehem."
[Facebook page of the Fatah Movement - Bethlehem Branch,

Oct. 18, 2017]


A third terrorist who Fatah glorified in a Facebook post is Muhammad Falana, who is serving a life sentence for planting a bomb together with an accomplice near the town of Dolev in the West Bank in 1992. One person was murdered and 6 were injured in the bombing.


Text on image:

"Fatah Movement

Ramallah and El-Bireh branch...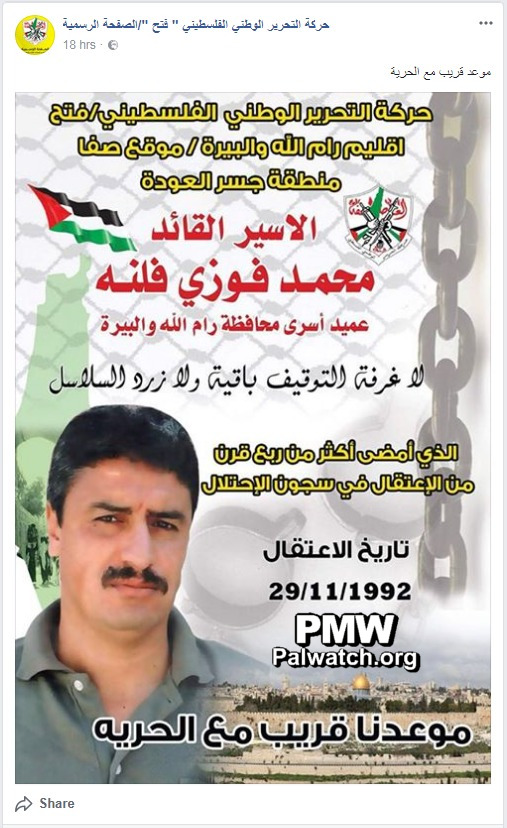 Sub-branch Jisr Al-Awda

Prisoner commander

Muhammad Fawzi Falana

The most veteran prisoner of the Ramallah and El-Bireh district

'The prison cell will not remain forever, and neither will the chains' (This is a quote from a poem by Palestinian national poet Mahmoud Darwish -Ed.)

[Falana,] who has served over a quarter century in the occupation's prisons

Date of arrest

Nov. 29, 1992

Freedom is drawing near"

[Official Fatah Facebook page, Nov. 29, 2017]


PMW has documented the PA and Fatah's policy of
glorifying terrorists
and
turning them into role models
for Palestinian society.

Atef Abayat - Tanzim (Fatah terror faction) commander in Bethlehem who was accused of murdering Sarit Amrani in a shooting attack in the West Bank (Sept. 20, 2001). He was also accused of shooting at the Jerusalem neighborhood of Gilo. Abayat was killed in a car explosion about a month after the murder of Sarit Amrani. PMW has been unable to verify the circumstances surrounding his death.

Muhammad Falana - serving a life sentence for planting a bomb with an accomplice near the town of Dolev in the West Bank in 1992. 1 person was murdered and 6 were injured in the bombing.

Mahmoud Darwish is considered the Palestinian national poet. He published over 30 volumes of poetry and 8 books of prose and has won numerous awards. He joined the Israeli Communist Party in 1961 and the terrorist organization PLO in 1973, becoming a member of the PLO Executive Committee in 1987. He left the PLO in 1993 because it signed the Oslo Accords with Israel.
Many in Israel see his poetry as inciting hate and violence. One poem he wrote in 1988 at the height of the Palestinian wave of violence and terror against Israel (the first Intifada, 1987-1993) calls to Israelis: "Take your portion of our blood - and be gone... Live wherever you like, but do not live among us... Die wherever you like, but do not die among us... Leave our country, our land, our sea, our wheat, our salt, our wounds, everything, and leave the memories of memory."
He also wrote "Silence for the Sake of Gaza" in 1973, which many see as glorifying terror: "She wraps explosives around her waist and blows herself up. It is not a death, and not a suicide. It is Gaza's way of declaring she is worthy of life."
His defenders have claimed that Israel misinterprets his poetry and that he sought reconciliation with Israel. One wrote in 2017: "Darwish arranged meetings between Palestinian and Israeli intellectuals, and published essays on their discussions. He was optimistic that, through mutual understanding, the two sides could eventually reconcile." [https://www.bcalnoor.org/]