Fatah Facebook posts map of "Palestine" that erases Israel, with the Dome of the Rock in the background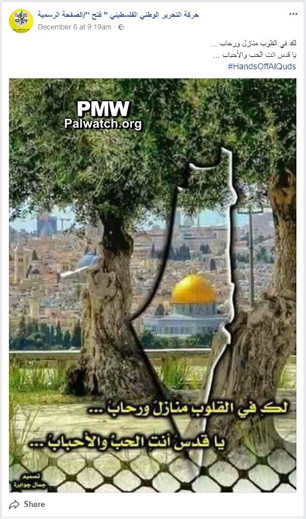 Image and text posted on the official Fatah Facebook page

Posted text:
"In the hearts of homes and plazas,
O Jerusalem, you have the love and the beloved (excerpt of a poem by Palestinian poet Lutfi Zaghloul –Ed.)
#HandsOffAlQuds (the hashtag is in English –Ed.)"
The image shows the outline of the PA map of "Palestine" that presents all of Israel as "Palestine" together with the PA areas superimposed over the Dome of the Rock, which is seen in the middle of the map between two olive trees that align with the lower curvature of the map's lines. Behind the Dome of the Rock the western part of Jerusalem is seen.
Text on image:
"In the hearts of homes and plazas,
O Jerusalem, you have the love and the beloved"