Hosts of official PA TV program claim Jerusalem is the 'Eternal capital of the State of Palestine'
Official PA TV program
Palestine This Morning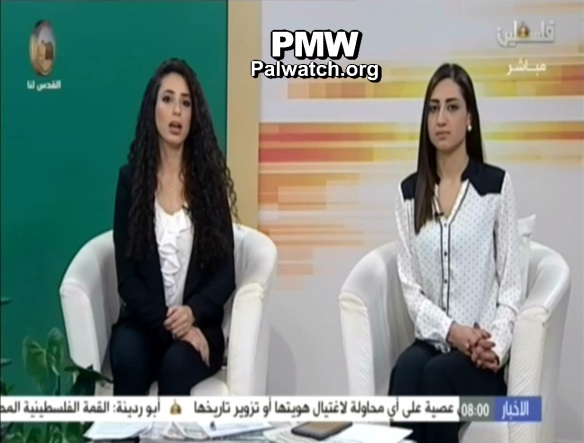 Visual:
Throughout the broadcast there is a circle in the upper left corner of the screen with changing pictures of sites in Jerusalem such as the Dome of the Rock and the Al-Aqsa Mosque, and under them is the text: "Jerusalem is for us."

Official PA TV host: "Today – Tuesday, Dec. 12 [2017] – is the sixth consecutive day of Palestine This Morning's special coverage regarding Jerusalem, the eternal capital of the State of Palestine."

Note: the broadcasts follow US President Donald Trump's recognition of Jerusalem as Israel's capital, see note below

US recognition of Jerusalem as capital of Israel - On Dec. 6, 2017, US President Donald Trump gave a speech formally recognizing Jerusalem as the capital of Israel and stating that he had instructed the State Department to begin preparations to transfer the US embassy from Tel Aviv to Jerusalem. Trump concluded by stating that the US is still fully committed to the peace process in the Middle East. Following his speech, Trump signed the waiver to delay the transfer of the embassy, and apparently will continue to do so until preparations for the transfer have been completed.