Fatah official in response to Trump recognition of Jerusalem as Israel's capital: "Jerusalem; Without it, fire and revolution"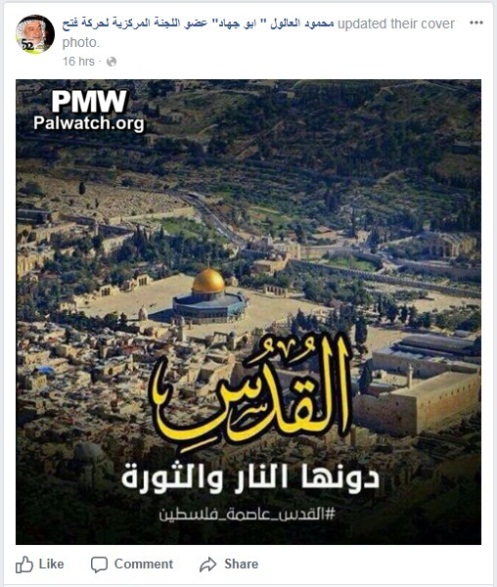 Image posted on the Facebook page of Fatah Deputy Chairman Mahmoud Al-Aloul as the page's cover photo
The image shows the Temple Mount.

Text on image:

"Jerusalem
Without it, fire and revolution
#Jerusalem_the_capital_of_Palestine"
The image was posted in response to US President Donald Trump's recognition of Jerusalem as the capital of Jerusalem and his decision to move the US embassy there.
US recognition of Jerusalem as capital of Israel - On Dec. 6, 2017, US President Donald Trump formally recognized Jerusalem as Israel's capital and instructed the State Department to begin preparations to transfer the US embassy from Tel Aviv to Jerusalem. Trump added that the final borders of Jerusalem will be determined during negotiations.