Photo posted on Fatah Facebook page shows woman wearing Palestinian flag hitting Trump with her sandal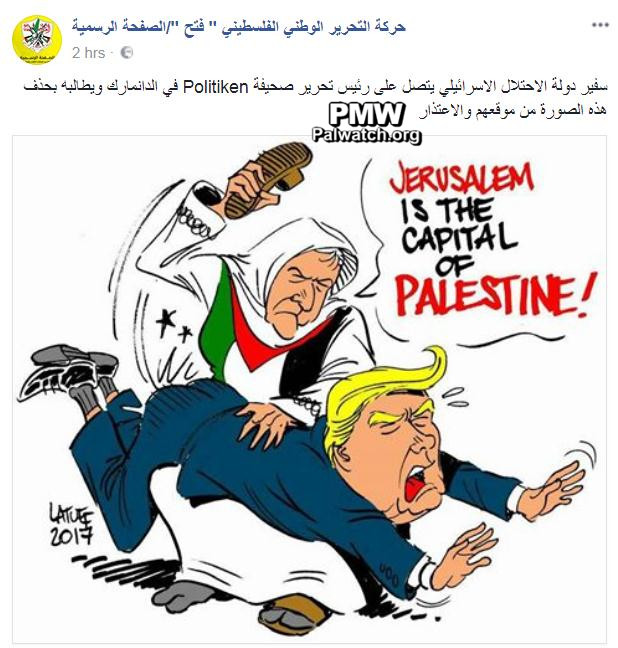 Cartoon and text posted on the official Fatah Facebook page

Posted text: "Israeli occupation state Ambassador [Benny Dagan] calls the editor in chief of the Danish newspaper Politiken and demands that he remove this picture from their website and apologize"

The cartoon shows a woman with a Palestinian flag on her dress spanking US President Donald Trump with a shoe and saying in English: "Jerusalem is the capital of Palestine!"
This refers to Trump officially recognizing Jerusalem as Israel's capital on Dec. 6, 2017.

The mention of Israel's Ambassador to Denmark's complaint to the Danish paper Politiken over a cartoon is mistaken. The Ambassador complained over a cartoon that drew a stereotypically antisemitic image of a Jew. [Politiken (Denmark), Dec. 16, 2017]

US recognition of Jerusalem as capital of Israel - On Dec. 6, 2017, US President Donald Trump formally recognized Jerusalem as Israel's capital and instructed the State Department to begin preparations to transfer the US embassy from Tel Aviv to Jerusalem. Trump added that the final borders of Jerusalem will be determined during negotiations.