PMW report sparks confrontation between Israeli PM's spokesperson and Fatah on social media
PMW report sparks confrontation between
Israeli PM's spokesman and Fatah on social media

Following
Palestinian Media Watch
's exposure that official Palestinian Authority TV was calling for suicide bombings in a
music video
- which included the lyrics "Al-Aqsa has called... For its sake, life is insignificant... God, grant us Martyrdom" - Ofir Gendelman, Israeli Prime Minister Netanyahu's spokesman to the Arab media, tweeted PMW's report. Gendelman said that PA TV is promoting "ISIS-style Jihadi indoctrination," which "wouldn't have been aired without permission from PA president Abbas' office":

The PA once again celebrates suicide bombings in Israel and calls on Palestinians to carry out more of them. This is ISIS-style Jihadi indoctrination on the PA's TV and it wouldn't have been aired without permission from PA President Abbas' office. https://t.co/LFv0VIexGA

— Ofir Gendelman (@ofirgendelman) December 20, 2017
In response, Fatah posted on its official Facebook page PMW's subtitled video from PA TV, stating that "Gendelman, Netanyahu's spokesman, attacks PA TV" [Official Fatah Facebook page, Dec. 20, 2017]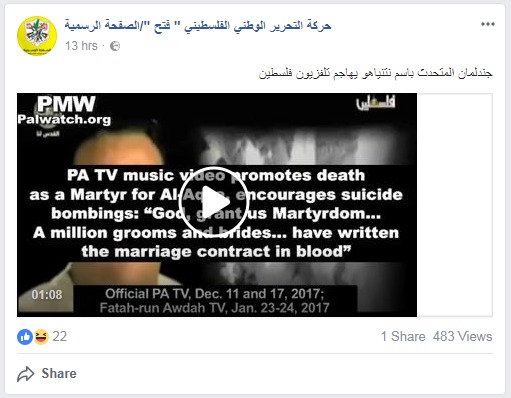 PMW reports often serve the Israeli Prime Minister as a source of information. For example, at the 71st session of the UN General Assembly, Israeli PM
Netanyahu cited 10 examples supplied by PMW
to show how Palestinian youth are incited to commit terror by their leadership.