"Santa Trump" gave Muslim and Christian sites to Israel in PA daily cartoon
Itamar Marcus and Nan Jacques Zilberdik
|
"Santa Trump" gave Muslim and Christian sites to Israel in PA daily cartoon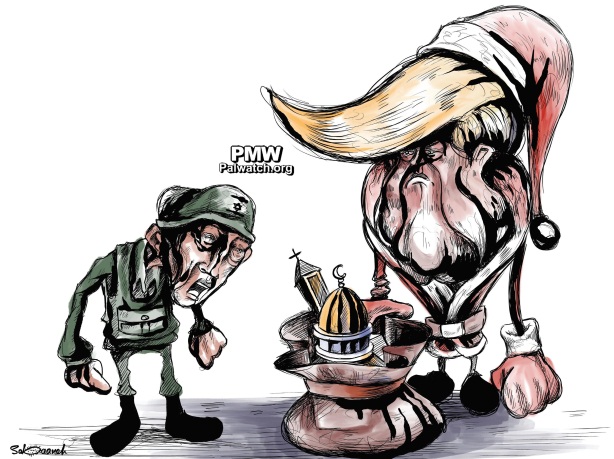 Fatah cartoon shows Jesus kicking Trump out of Jerusalem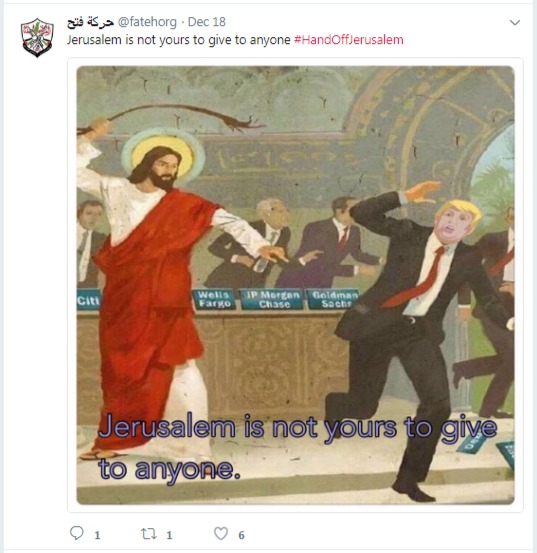 by Itamar Marcus and Nan Jacques Zilberdik
The above cartoons are examples of the continued Palestinian Authority attacks on US President Donald Trump for recognizing Jerusalem as Israel's capital earlier this month.
The cartoon of Trump dressed as Santa Claus giving the Dome of the Rock and the Church of the Holy Sepulchre to Israel, represented by a soldier with an Israeli flag on his helmet, was printed in the official PA daily. [Official PA daily Al-Hayat Al-Jadida, Dec. 14, 2017]
Fatah's cartoon shows Jesus chasing Trump out of Jerusalem with a whip in a scene from Christian tradition in which Jesus chases out the merchants and the money changers from before the Temple. In the background are four name tags of American banking companies: "Citi[bank]," "Wells Fargo," "JP Morgan Chase," and "Goldman Sachs." The text on the cartoon says "Jerusalem is not yours to give to anyone." Fatah repeated this in its tweet, adding the hashtag #HandOffJerusalem. [Fatah Twitter account, Dec. 18, 2017]
US recognition of Jerusalem as capital of Israel - On Dec. 6, 2017, US President Donald Trump formally recognized Jerusalem as Israel's capital. Trump added that the final borders of Jerusalem will be determined during negotiations. The US embassy was transferred from Tel Aviv and opened in Jerusalem on May 14, 2018, the anniversary of Israel's declaration of independence in 1948 according to the Gregorian calendar.