Fatah`s guide to rock throwing for kids
Itamar Marcus and Nan Jacques Zilberdik
|
Fatah's guide to rock throwing for kids
PMW calls on UNICEF to condemn Fatah's recruitment of children to commit terror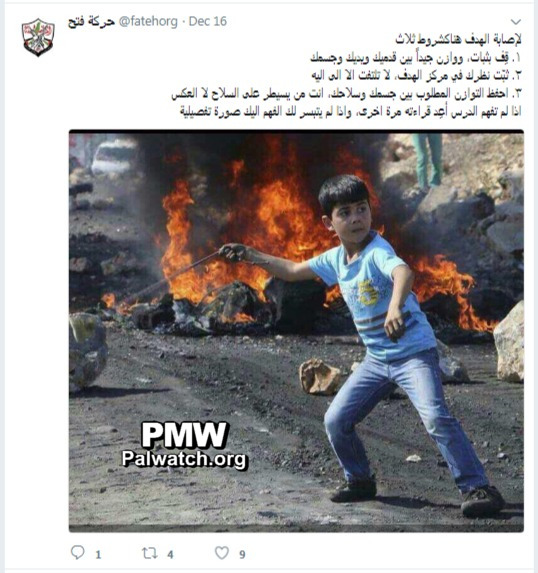 Fatah posted on its Twitter account the above photo of a young boy hurling rocks with a slingshot together with an explanation to Palestinians how best to throw rocks:
Posted text:
"In order to hit the target, there are three conditions:
1. Stand stably and balance your legs, arms, and body well
2. Focus your gaze on the center of the target, and do not look at anything else
3. Keep the desired balance between your body and your weapon; you are the one that controls the weapon, and not the other way around
If you did not understand this, read it again, and if you still have not understood, here is an example picture for you"
[Official Fatah Twitter account, Dec. 16, 2017]
Rock throwing at cars has caused hundreds of injuries and many deaths, including the following babies who were killed by stones thrown at their family's cars:
Yehuda Haim Shoham, age 5-months;
Jonathan Palmer age 12-months (his father Asher was also killed);
Adele Biton age 3. The 5 people convicted of murdering Adele were all teens.

PMW calls on UNICEF to issue a stern condemnation of Fatah's recruiting children to commit acts of terror. Recruiting children to attempt to kill others and to endanger their own lives is clear child abuse.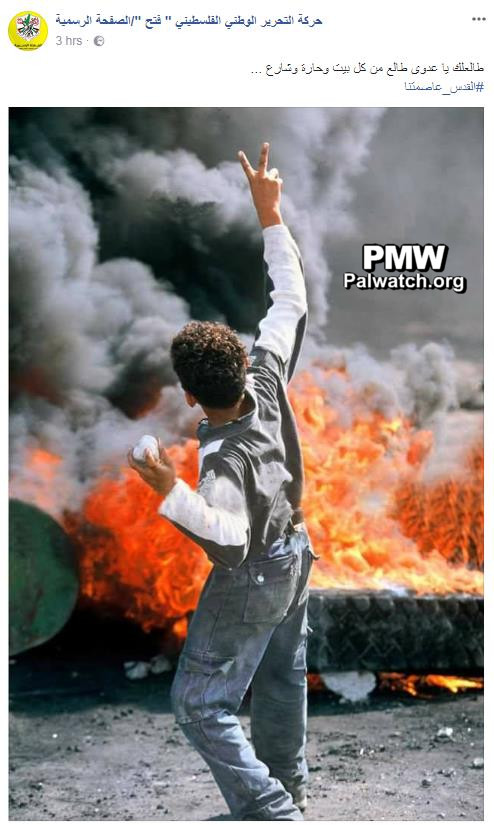 Palestinian Media Watch has exposed similar posts by Fatah calling for violence. In one post on Facebook, Fatah urged Palestinians to "strap on your weapon," while in others the movement called for "rage," and to "continue the intifada."

Fatah also published this picture earlier this month likewise encouraging children to throw rocks.

More details on murders of the babies cited above

Yehuda Haim Shoham, a 5-month old baby, was murdered on June 2, 2001 after rocks were thrown at his parents' car while driving near the Palestinian village of Isawiya. A Palestinian threw a rock at the front windshield, which went through and hit the baby in the back seat. [IDF blog]

Yonathan Palmer, 12 months, was killed together with his father Asher on Sept. 23, 2011, when stones thrown by Palestinians at the vehicle his father was driving near near Hebron hit Yonatan in the head and caused Palmer to lose control of his car, which ran into a gulley, killing both of them instantly.

Adele Biton, 3, suffered traumatic brain damage when the car driven by her mother on the Trans-Samaria Highway was struck by a barrage of stones thrown by Palestinian youths on March 14, 2013. She died almost two years later on Feb. 17, 2015 at age 4. [Ministry of Foreign Affairs website, Feb. 17, 2015]