Fatah branch: Terrorist stabber's funeral was a "celebration"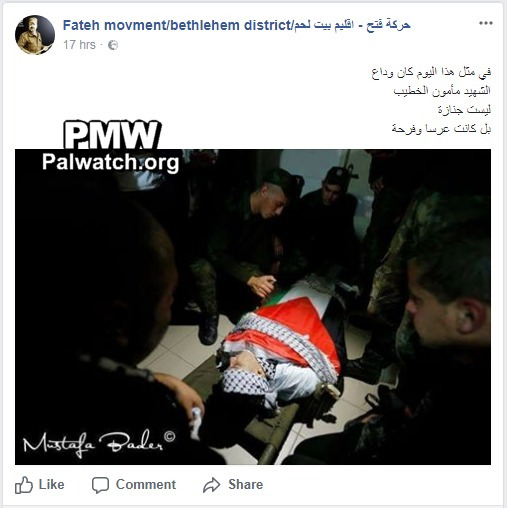 Image and text posted on the Facebook page of the Fatah Movement – Bethlehem Branch
Posted text:
"On this exact date a farewell was held for Martyr (
Shahid
) Mamoun Al-Khatib (i.e., terrorist, attempted to stab 1). It was not a funeral, but rather a celebration."
A picture is shown of uniformed men around the body of terrorist Mamoun Al-Khatib, which is covered with the Palestinian flag and keffiyehs (Arab headdresses).
Mamoun Ra'ed Muhammad Al-Khatib – 16-year-old Palestinian terrorist who attempted to stab an Israeli civilian at the Gush Etzion Junction on Dec.1, 2015. Israeli soldiers at the scene shot Al-Khatib and killed him.