Santa is a rock-throwing Palestinian and victim of Israel
Itamar Marcus and Nan Jacques Zilberdik
|
Santa is a rock-throwing Palestinian
in Fatah cartoon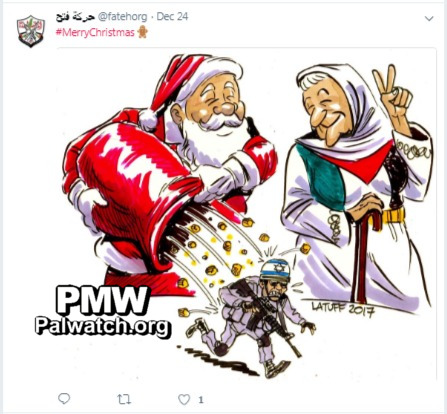 Official PA daily presents Santa as victim of Israel
Itamar Marcus and Nan Jacques Zilberdik


On the occasion of Christmas, Fatah tweeted the cartoon above showing Santa Claus pouring rocks on an Israeli soldier with a Star of David on his helmet, who is running away in fear. Next to Santa a smiling Palestinian woman with a Palestinian flag on her dress is making the "V" sign for "Victory." [Official Fatah Twitter account, Dec. 24, 2017]


Other Palestinian cartoons have presented children as victims of Israel and Santa Claus unable to help them: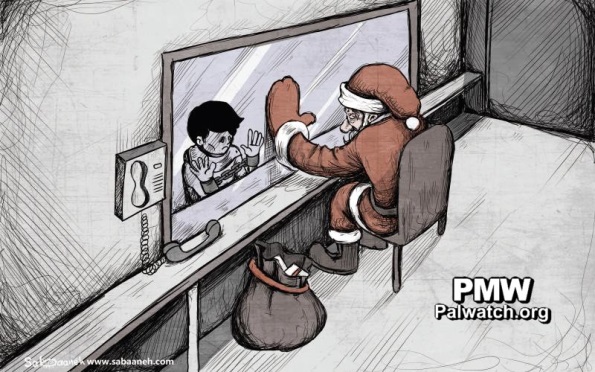 An official PA daily cartoon shows Santa Claus visiting a handcuffed Palestinian child in prison. Santa Claus is on one side of a glass partition with a sack of gifts, the boy on the other. [Official PA daily Al-Hayat Al-Jadida, Dec. 24, 2017]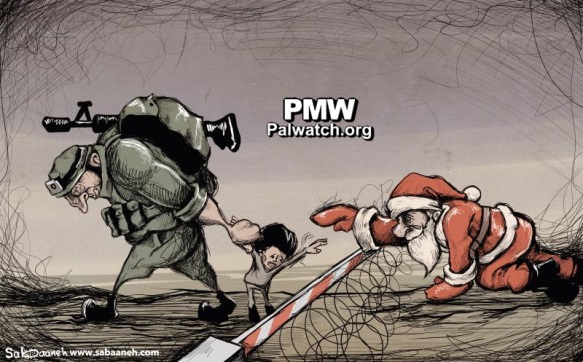 Another cartoon also printed in the official PA daily showed an armed Israeli soldier dragging a Palestinian child away from Santa Claus, who is on his hands and knees. Santa Claus and the child are reaching out for each other over barbed wire. [Official PA daily Al-Hayat Al-Jadida, Dec. 26, 2017]


A cartoon tweeted on the official Fatah Twitter account presented Santa Claus himself as victim. It depicted two Israeli soldiers conducting a physical search on Santa and his sack of gifts, as he stands with arms held up against the Israeli security wall. A church with a cross can be seen over the wall.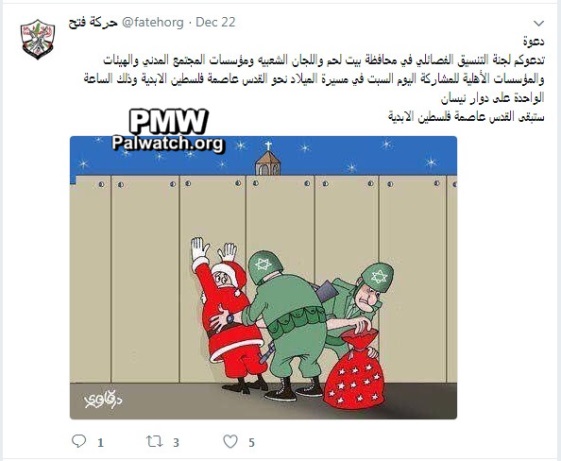 Posted text: "Invitation
The Bethlehem district committee for coordinating the factions, the popular committees, the civil society institutions, and the civilian institutions invite you to participate on Saturday [Dec. 23, 2017] in a Christmas procession towards Jerusalem, the eternal capital of Palestine, at 1:00 p.m. at Nisan Square

Jerusalem will remain the eternal capital of Palestine"

[Official Fatah Twitter account, Dec. 22, 2017]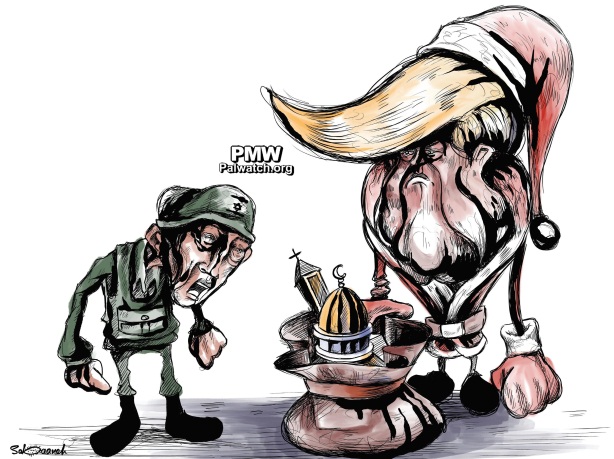 Trump dressed as Santa Claus is giving the Dome of the Rock and the Church of the Holy Sepulchre to Israel, represented by an Israeli soldier. [Official PA daily Al-Hayat Al-Jadida, Dec. 14, 2017]


PMW reported on
two Santa cartoons
presenting Santa Claus as a victim of Israeli soldiers printed by the official PA daily in 2016, one of them was reprinted this year: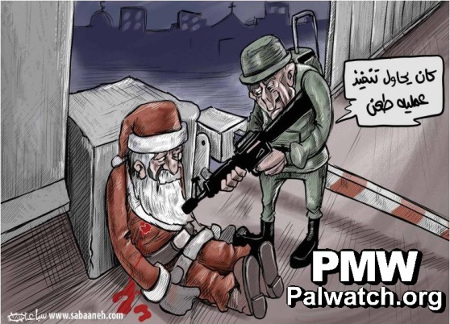 [Official PA daily Al-Hayat Al-Jadida, Dec. 26, 2016 and Dec. 25, 2017]