Former terrorist becomes mayor of West Bank city; Officials: "The Palestinian people will continue to politically and popularly resist"
Headline: "Giving the Al-Doha Municipality to released prisoner Jawabreh"
"Today, Wednesday [Jan. 3, 2018], Local Government Deputy Minister Muhammad Hassan Jabarin gave the elected Mayor of Al-Doha in the Bethlehem district, Head of the Independence and Development List in the 2017 local elections Raafat Jawabreh (i.e., terrorist, directed numerous attacks), the role of mayor after his release from prison, in place of previous Mayor Shahin Shahin.
District Governor of Bethlehem Jabrin Al-Bakri, Director of [PLO] Commission of Prisoners' Affairs Issa Karake, and Secretary-General of the Local Government Administration Shukri Radaideh were present at the ceremony giving [over the role of mayor], which was held at the Al-Nawras Center building of the Al-Doha Municipality… Jabrin Al-Bakri and Issa Karake emphasized the continuation of the actions building the state institutions, and also that the Palestinian people will continue to politically and popularly resist [the occupation] in order to establish its state, despite all of the threats against us and the acts of occupation against us."
The article includes a picture from the ceremony, in which released terrorist prisoner Raafat Jawabreh is seen furthest on the right.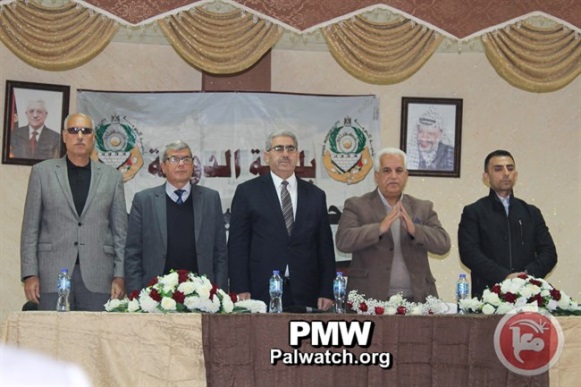 Raafat Jawabreh – Palestinian terrorist and one of the commanders of the Al-Aqsa Martyrs' Brigades (Fatah's military wing) in Bethlehem during the PA terror campaign (the second Intifada, 2000-2005). Jawabreh directed numerous terrorist attacks, including a bombing and shooting attack at a supermarket in Efrat, south of Bethlehem, on Feb. 22, 2002, in which 1 Israeli was wounded. Jawabreh was sentenced to 15 years of imprisonment in 2002, and was released in December 2017.