Fatah Facebook glorifies terrorist as a "heroic Martyr"
Text and image posted on the official Fatah Facebook page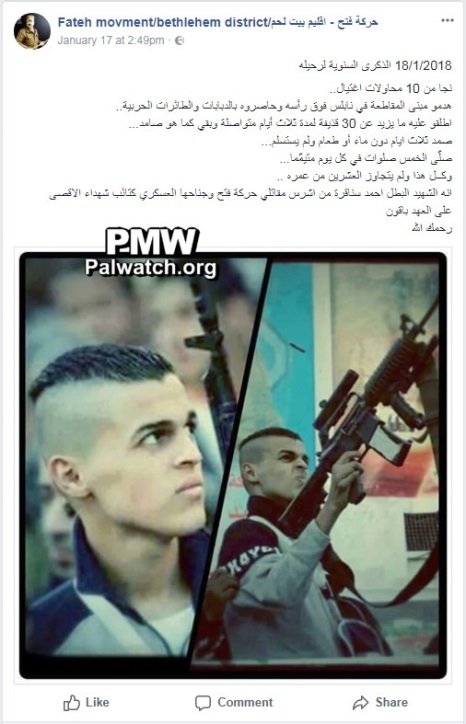 The image shows two pictures of Palestinian terrorist and Al-Aqsa Martyrs' Brigades member Ahmed Sanaqrah with an assault rifle.
Posted text:
"Jan. 18, 2018 – the anniversary of his passing
Saved from 10 assassination attempts
They destroyed the Muqata'a (i.e., PA headquarters) in Nablus overhead and surrounded him with tanks and fighter jets
They fired more than 30 shells at him for three straight days, and he remained standing firm (sic., it was one night, at the end of which terrorist Ahmed Sanaqrah was killed while trying to flee)
He stood firm for three days without food or water and did not surrender
He prayed five prayers every day while purifying himself with sand before the prayer
And all of this was without even reaching the age of 20
Heroic Martyr (
Shahid
) Ahmed Sanaqrah was one of the strongest fighters of Fatah and its military wing the Al-Aqsa Martyrs' Brigades
We will remain loyal to the path
May Allah's mercy be upon him"
Ahmed Sanaqrah – Palestinian terrorist and senior member of the Al-Aqsa Martyrs' Brigades (Fatah's military wing) who was shot and killed on Jan. 18, 2008, when he tried to escape arrest. Sanaqrah was an expert on explosive belts and led a terror cell that planned to carry out terror attacks in Israel.