Fatah Facebook glorifies terrorist as "heroic Martyr" and "legendary phoenix"
Text and image posted on the official Fatah Facebook page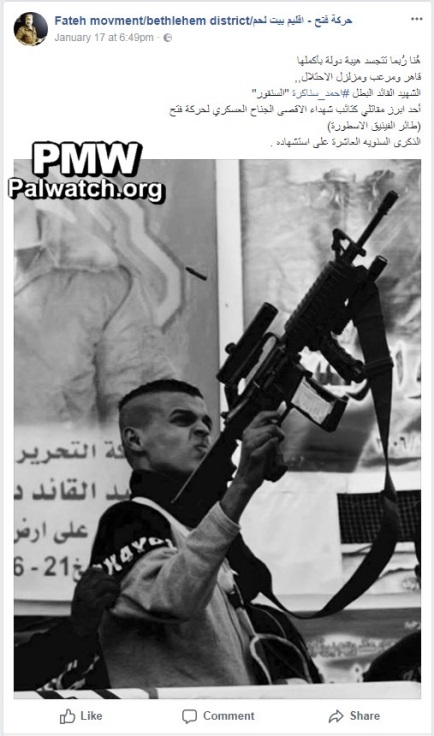 The image shows Palestinian terrorist and Al-Aqsa Martyrs' Brigades (Fatah military wing) member Ahmed Sanaqrah with an assault rifle.
Posted text:
"Here perhaps the glory of an entire state's honor is expressed
He who overpowered, terrified, and shocked the occupation,
Heroic Martyr (
Shahid
) commander Ahmed Sanaqrah 'Al-Sanqour'
One of the most prominent fighters of the Al-Aqsa Martyrs' Brigades, the military wing of the Fatah Movement
The legendary phoenix
The tenth anniversary of his death as a Martyr"
Ahmed Sanaqrah – Palestinian terrorist and senior member of the Al-Aqsa Martyrs' Brigades (Fatah's military wing) who was shot and killed on Jan. 18, 2008, when he tried to escape arrest. Sanaqrah was an expert on explosive belts and led a terror cell that planned to carry out terror attacks in Israel.