Image on Fatah Facebook page shows a young boy screaming at Trump with the accompanying text: "Jerusalem is a red line"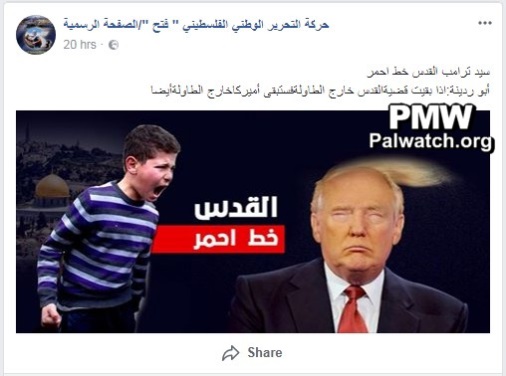 Image and text posted on the official Fatah Facebook page

Posted text:
"Mr. [US President Donald] Trump, Jerusalem is a red line
[Spokesman for PA Chairman Mahmoud Abbas and Fatah Central Committee member
Nabil] Abu Rudeina: 'If Jerusalem is not on the table, the US will also not be on the table'"

The image shows US President Donald Trump and a boy to his left shouting with such force that Trump's hair is flying. The Dome of the Rock is seen behind the boy. The image refers to Trump saying on Jan. 25, 2018, that he took Jerusalem "off the table" by recognizing it as Israel's capital; see note below.

Text on image: "Jerusalem is a red line"

On Jan. 25, 2018, US President Donald Trump held a joint press conference with Israeli Prime Minister Benjamin Netanyahu on the sidelines of the World Economic Forum annual meeting in Davos, Switzerland. Trump told Netanyahu: "We took Jerusalem off the table." When asked by a reporter whether Jerusalem being "off the table" meant that none of it would be part of a future Palestinian state, Trump refused to elaborate, responding: "Next question." Trump also said that the US would stop providing financial aid to the PA if they did not return to negotiations with Israel.